Holtop Rooftop Packaged Air Conditioner
Holtop rooftop packaged air conditioner is the middle size AC equipment that combines functions of HVAC (cooling, heating and air ventilation etc.) And it contains all components of compressor, evaporator, condenser and valves etc in one unit. Holtop rooftop packaged air conditioner are usually installed on the roof deck in commercial applications.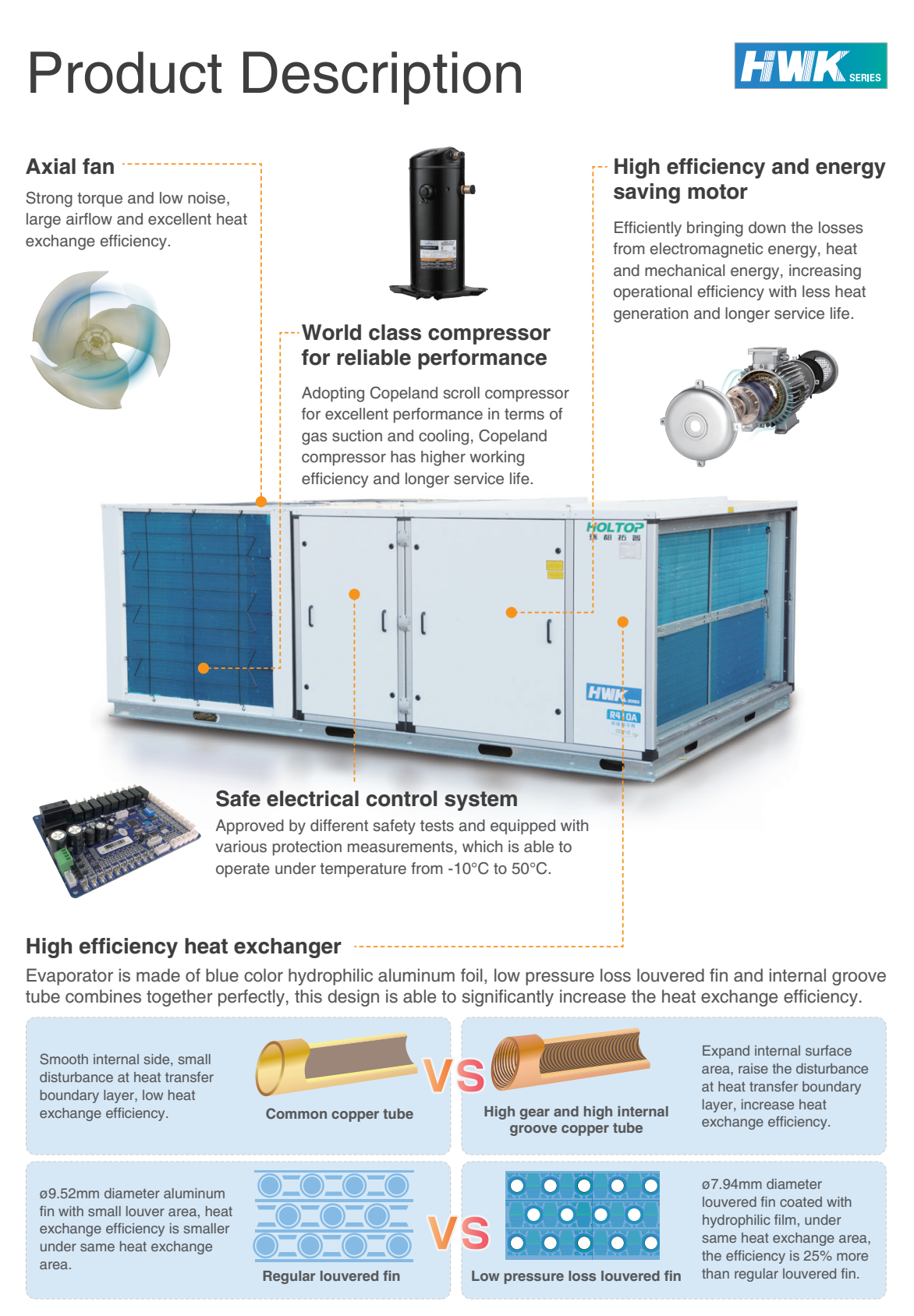 Product Features:
1. Simplify System, Lower Investment:
Holtop rooftop packaged air conditioner ask for neither chilled nor cooling water system, which can save the cost of circulation pump, cooling tower, and other relevant equipment to this system, thus cutting down the total investment and maintenance cost on HVAC system to a great extent.
2. Compact Design, Easy and Flexible Installation, Low Footprint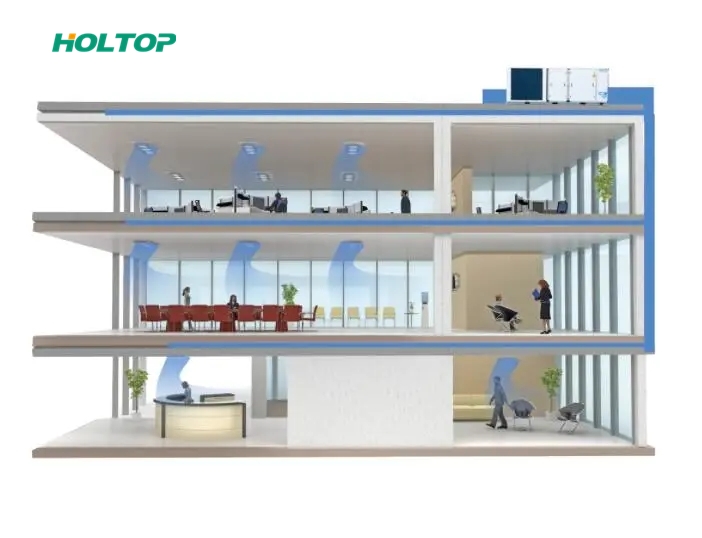 User's requirement on installation is fully considered. The unit is adopted compact design concept that integrating with indoor unit and outdoor condenser units so that there is no additional refrigerant pipe connection and welding jobs at site, and It is safe and easy for delivery and installation.
Holtop rooftop packaged air conditioner could be placed outdoor on the ground or the roof deck, no required machine room or indoor space for housing the package unit.
Only a few works for power cabling, control wiring, ducting are needed before system operation
3. Corrosion Resistance, Excellent Weather Conditions Acclimatisation
The unit structural components are powder coated for anti-corrosion. High-strength thermal-insulated framework, double-skin PU sandwich panel, and weather-proof structure design particularly for outdoor installation, that are all ensuring its excellent adaptation to various of climate conditions in different areas.
4. Wide Temperature Range Operation

Cooling mode is able to work with environment temperature is high up to 43°C, and also available when it is only 15°C, to satisfy the special cooling demand in some certain applications. Heating is available even the outdoor temperature is as low as -10°C.
5. Customisation For Project
Holtop rooftop packaged air conditioner specifications and functional sections could be designed and manufactured according to specific project. For example, high external pressure is available for long-distance ducting ventilation to guarantee sufficient air to each corner room; optional sections could be equipped to satisfy the client's requirement and create the ideal indoor climate condition.
Watch the Introduction Video and Subscribe Holtop YouTube Chanel to get latest update.
---
---