Energy recovery ventilation (ERV) is the energy recovery process of exchanging the energy contained in normally exhausted building or space air and using it to treat (precondition) the incoming outdoor ventilation air in residential and commercial HVAC systems. During the warmer seasons, the system pre-cools and dehumidifies while humidifying and pre-heating in the cooler seasons. The benefit of using energy recovery is the ability to meet the ASHRAE ventilation & energy standards, while improving indoor air quality and reducing total HVAC equipment capacity.
In a word, Energy Recovery Ventilator (ERV) allows fresh air into a building, while retaining pre-conditioned heating or cooling.
Heat&Energy Recovery Ventilators
Model description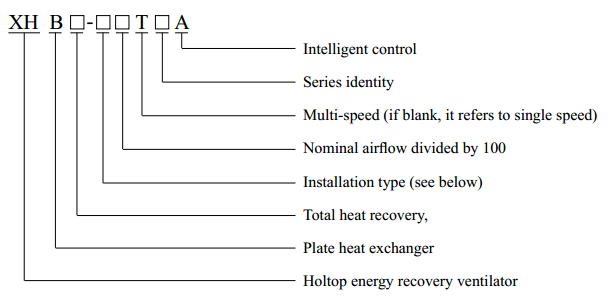 Note: Installation type
Suspended type, L-Floor type
Example
XHBQ-D10TH refers to suspended type ERV with total heat exchanger, TH series, airflow of 1000m3/h, 3 speeds.
Holtop AHU are designed and selected according to professional software, providing users with reasonable, economic, and practical air conditioning solutions. The features of Holtop AHU selection software also include:
Sound project and AHU query management
Precise airflow and unit section divisions
Multiple heat recovery options and functional section combinations
The air state point calculation of main sections
Various optional parts
l Flexible unit combinations
l Professional and detailed selection reports output
Design your project using Holtop Air Handling Units
Holtop AHUs are based on a completely modular design, capable of adapting to the needs of a variety of installation types, and developed by paying special attention to energy efficiency. Please provide details of your project and requirements as much as you can so we can make a proposal for you as soon as possible.