Holtop Comfort Fresh Air Ceiling Mounted Energy Recovery Ventilator

Holtop New Comfort Fresh Air CFA Ceiling Mounted Energy Recovery Ventilator
Experience a revolution in indoor air quality with our state-of-the-art Energy Recovery Ventilator. Designed to ensure that your living space is always filled with fresh, revitalized air, our system not only enhances your home's air quality but also conserves energy, making it an eco-friendly choice for modern homes.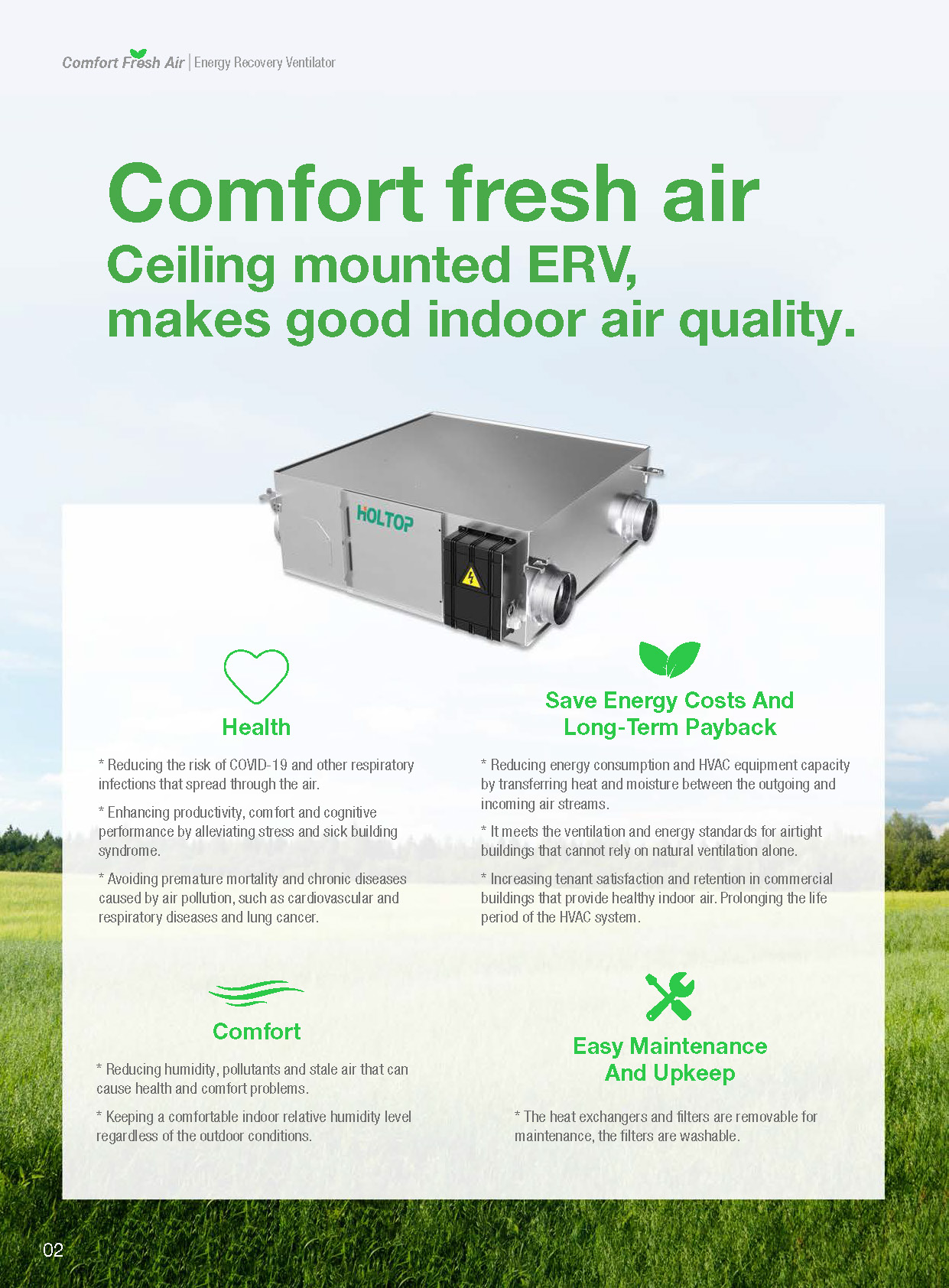 Better indoor air quality & less energy consumption
Holtop Ceiling Mounted Energy Recovery Ventilator introduces clean and fresh air to indoor and exhuasts the polluted air outdoors. When the outdoor air is comfortable, it works in bypass mode, the fresh air can be directly supplied to the room without heat exchange, and the exhaust air in the room can be discharged at the same time, to improve the indoor air quality. In winter or summer time, to provide comfortable indoor atmosphere and reduce the energy consumption, it works in energy recovery mode. This product is built with high efficient 5th Generation
Heat Exchanger that integrates compact and delicate filter slider.
It uses less energy while providing greater benefits, such as keeping your home healthier, replacing stale air
with fresh air, and removing various contaminants.

• Wide airflow range among 150-2000 m³/h.
• Plastic encapsulated DC motor, 10 speeds.
• Supply air purification with primary filter (G3) and medium filter (F7) optional.
• Occlusal edge sealing technology.
• High efficiency 5th generation total heat exchanger. Reserved side ports for OA and EA, flexible installation.
• Auto bypass.
• Two types of installation to suitable room.
• A smarter control system Android/ IOS.
• Energy efficiency class of A+ or A according to EU NO. 1253/2014.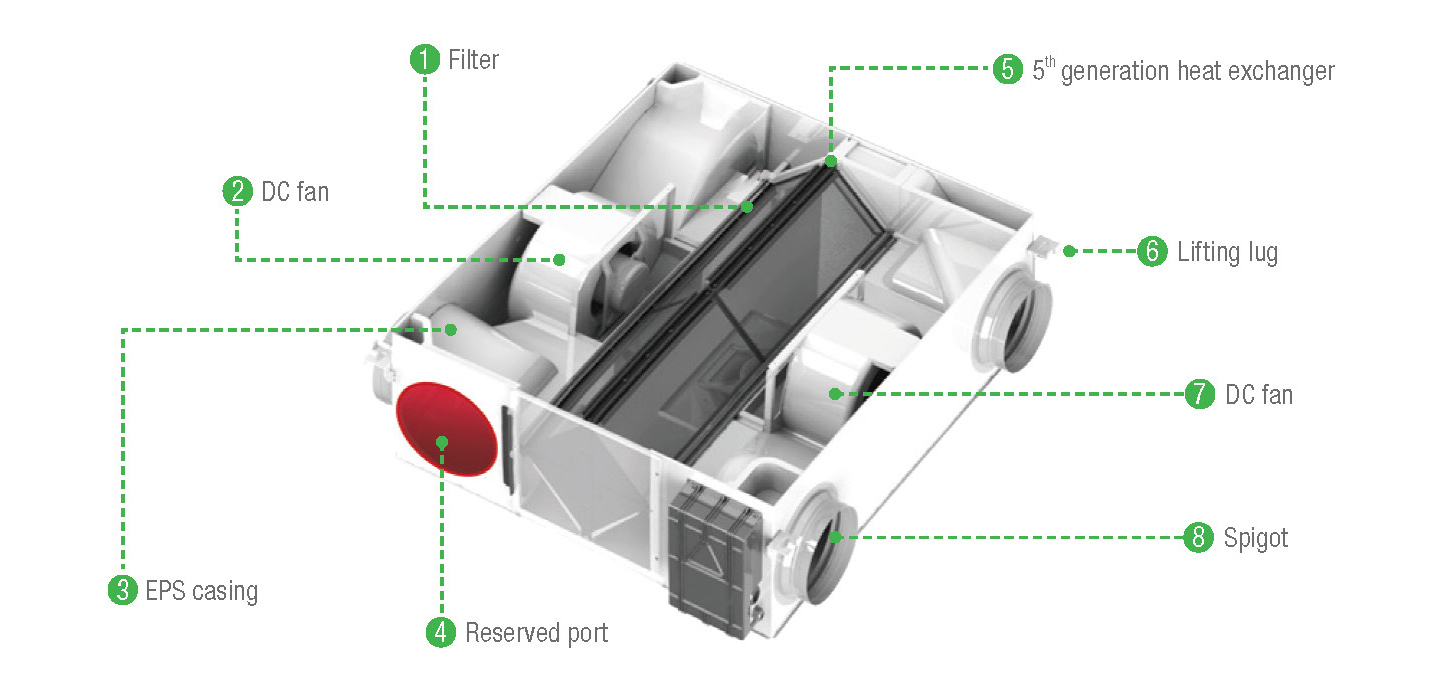 • Easy installation with integrated EPS casing.
• Better insulation, air tightness, and noise reduction.
• Mid-mounted fans, with stable air flow to have better heat exchange efficiency and stable operation
FLEXIBLE INSTALLATION
• Parallel airflow.
• Available with inverted installation.
• Reserved side ports for OA and EA.
OCCLUSAL EDGE SEALING TECHNOLOGY
• Triple folded edge thickness improving casing strength.
• Higher production efficiency.
• Good appearance and air tightness.
NEW DC FANS
Comparing with the old AC motor with metal casing, the new motor operate more stable, silent and energy-efficient, saving up to 40%.
Holtop 5th Generation Total Heat Exchanger Redefining Efficiency and Safety
Efficient Heat Exchange: Our latest ER paper technology ensures a higher heat exchanger efficiency, optimizing the air's temperature as it circulates.
Mold and Fire Resistant: Safety is our top priority. Our heat exchange materials undergo rigorous testing to ensure resistance against mold and fire.
Integrated Design: Crafted with precision, our integrated structure offers superior air tightness, ensuring no energy is wasted. Its sleek design also adds a touch of modern aesthetics to your space.
Advanced Filtering System: Our system comes with a reserved track integrated with the primary filter. For those seeking enhanced filtration, we offer an optional medium F7 filter, ensuring even the tiniest particles are captured.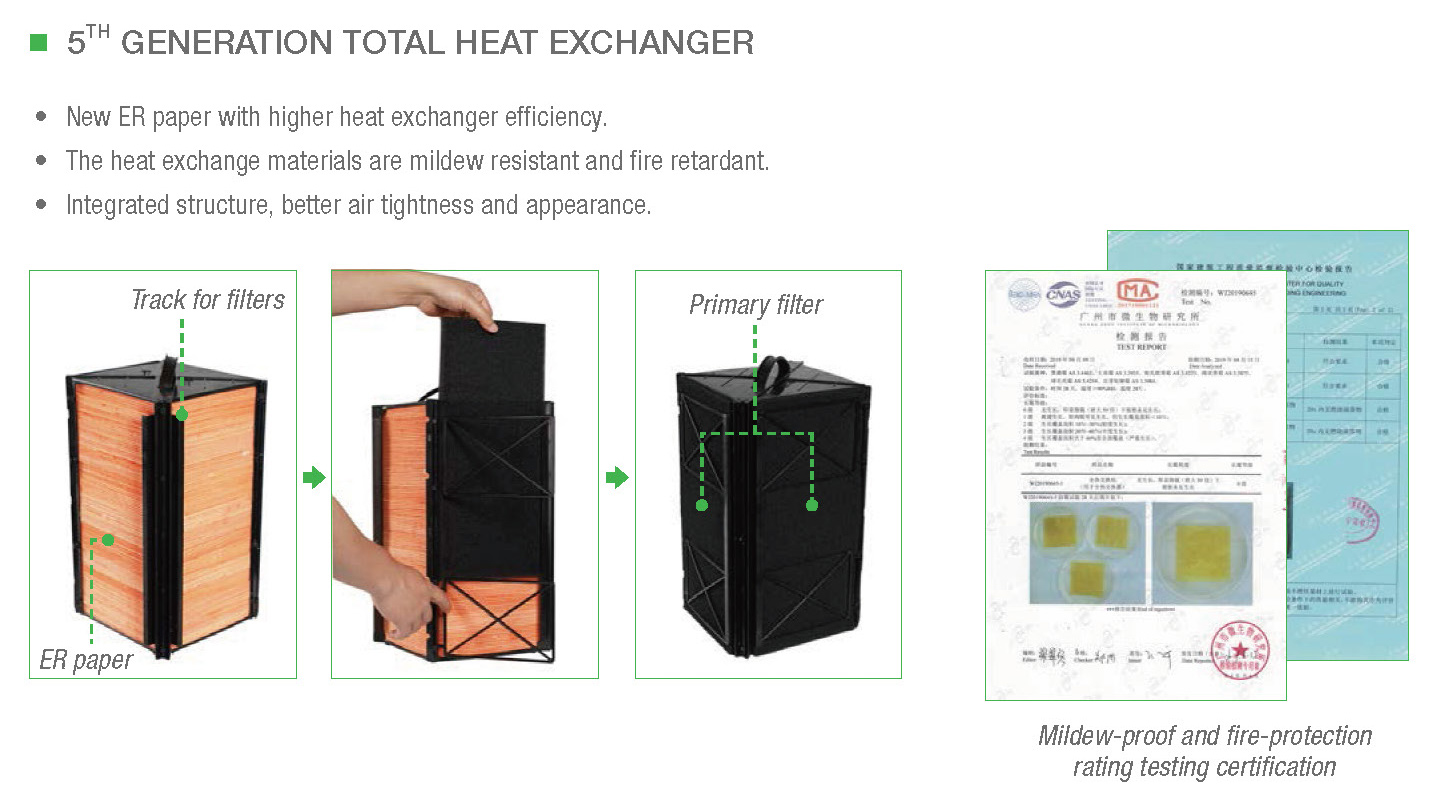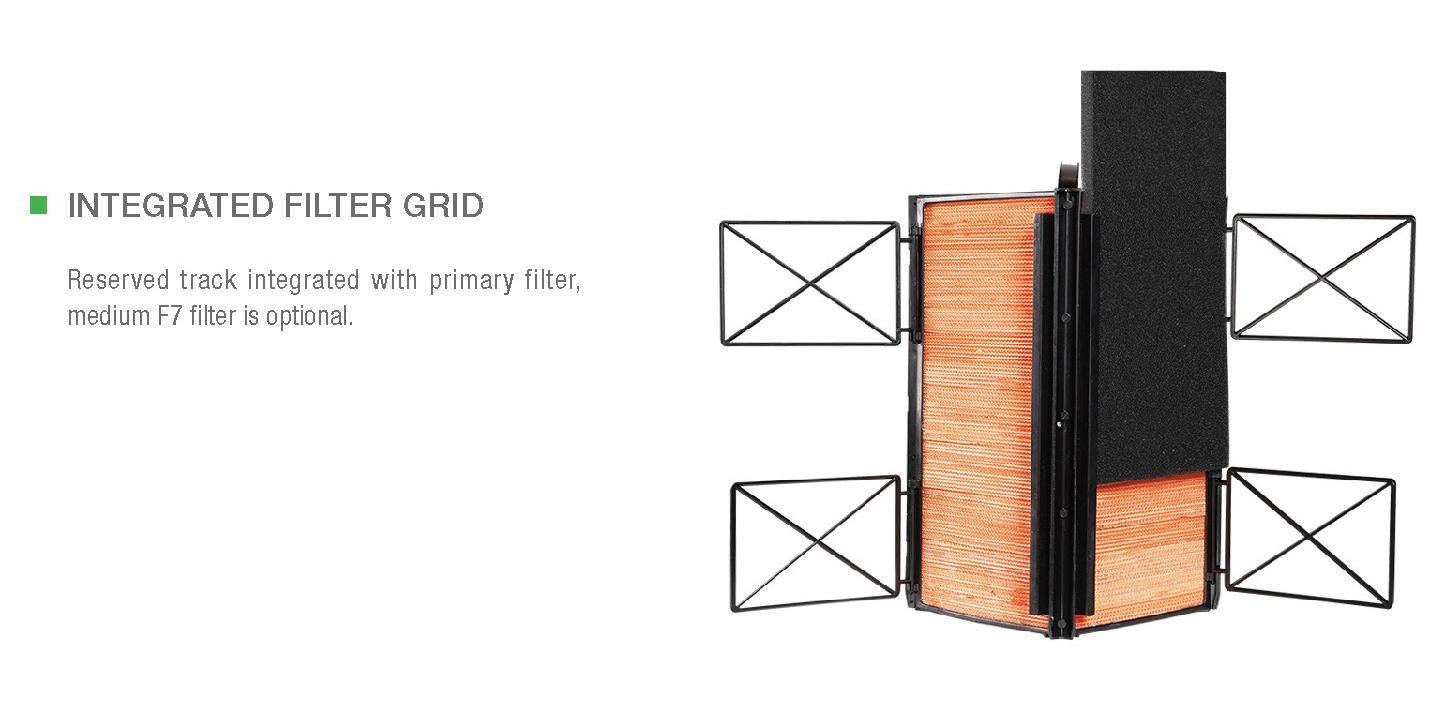 Advanced LCD Remote Control Panel
Intuitive Control at Your Fingertips
Navigate the functionalities of the ventilator with ease using our LCD remote control panel. Designed with user experience in mind, the panel offers:
Clear display of settings and system status
One-touch control for fan speed, timer settings, and more
Lock feature to prevent unintended changes
Alerts and notifications for system maintenance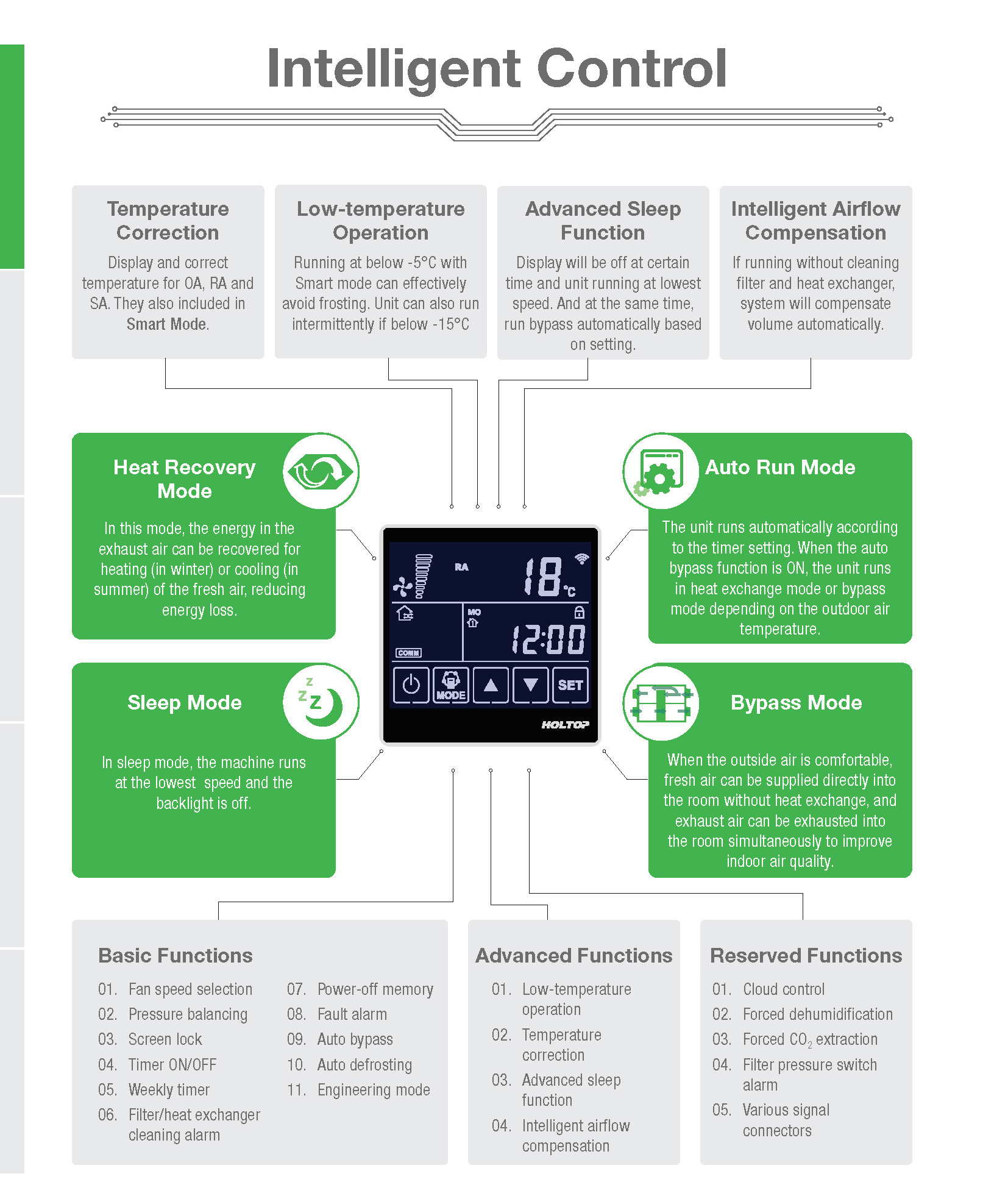 SMART LIFE App
Seamless Control, Anytime, Anywhere
Our SMART LIFE app brings the Energy Recovery Ventilator's controls to your smartphone. With an intuitive interface, you can:
Monitor real-time air quality metrics
Adjust settings on-the-go
Receive maintenance reminders
Access user manuals and troubleshooting guides

A Model for Every Need
We understand that every home is unique. That's why we offer a diverse range of Energy Recovery Ventilator models, including the CFA 150C, CFA 500C, CFA 1000C, and more. Each model is designed to cater to different room sizes and airflow requirements, ensuring optimal performance tailored to your needs.