Heat Pipe Heat Exchangers
Product Detail
Product Tags
Main Feature of Heat Pipe Heat Exchangers
1. Applying cooper tube with hydrophilic aluminum fin, low air resistance, less condensing water, better anti-corrosion.
2. Galvanized steel frame, good resistance to corrosion and higher durability.
3. Heat insulation section separates heat source and cold source, then liquid inside the pipe has no heat transfer to outside.
4. Special inner mixed air structure, more uniform airflow distribution, making heat exchange more sufficient.
5. Different working area designed more reasonably, Special heat insulation section avoids leakage and crosscontamination of supply and exhaust air, heat recovery efficiency is 5% higher than the traditional design.
6. Inside the heat pipe is special fluoride without corrosion, it is much safer.
7. Zero energy consumption, free of maintenance.
8. Reliable, washable and long life.
Working principle
| | |
| --- | --- |
| When heating one end of the heat pipe, liquid inside this end evaporates, the steam flows to the other end under pressure difference. Steam will condense and release heat in the condensing end. Heat transfers from high temperature to low temperature finished, condensate flows back to the evaporating end. In the same way, liquid inside the heat pipe evaporates and condenses circularly, so, heat is transferred from high temperature to low temperature constantly. | |
Take summer as sample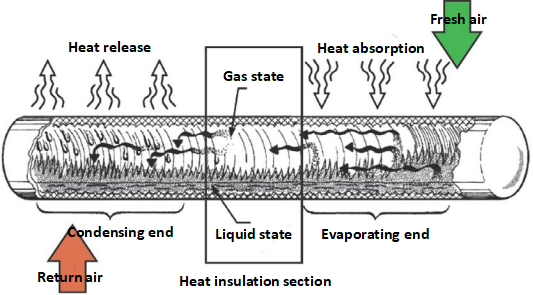 ---
Previous:
Blowers
---