Trending Products Best Fresh Indoor Air Fresh Air Dehumidification Systems
Product Detail
Product Tags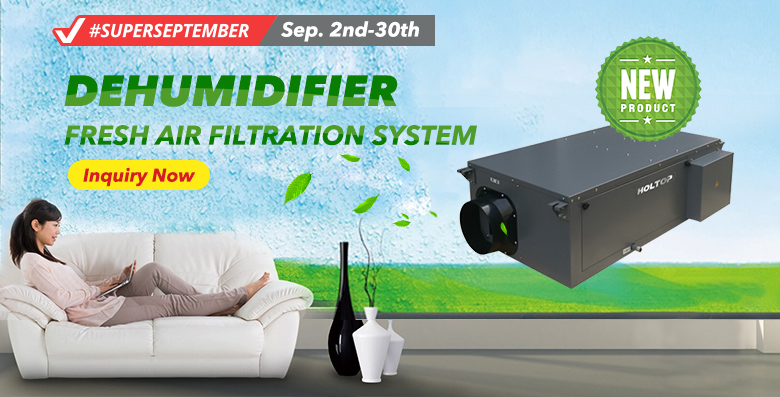 Monitoring the air quality and humidity in your home is essential for your health and comfort, as well as protection for your home and belongings.
Holtop central dehumidifier is designed to work with other HVAC  systems to bring fresh and clean outdoor air to your home.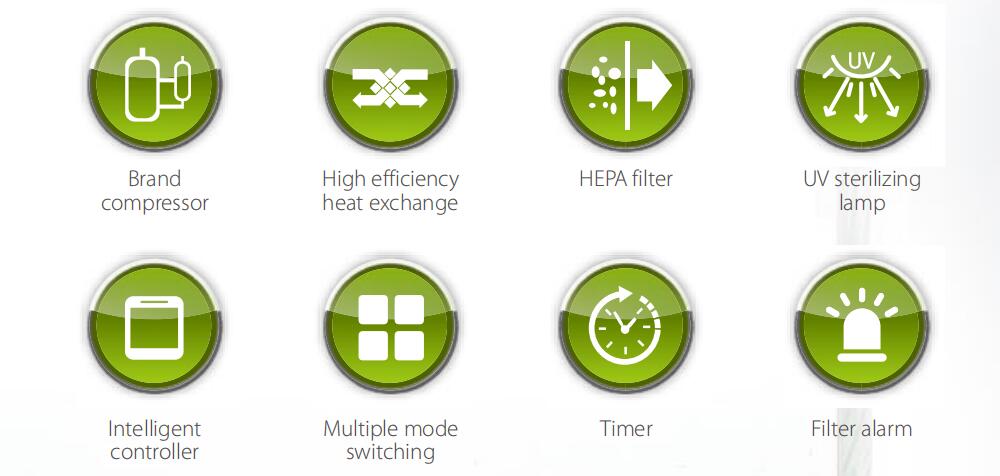 Working principle of Holtop Fresh Air Dehumidification Systems
The Holtop fresh air purification and dehumidification system adopts the principle of cooling dehumidification. By reducing the temperature of the air, the excess moisture  in the air will be extracted, and then adjust the air to  comfortable temperature and humidity by the reheating system.
Main functions of the HOLTOP dehumidification system:
1. High Efficient Heat Exchange System
Holtop heat exchange system uses a highly efficient hydrophilic aluminum foil honeycomb heat exchanger. Compared to other forms of heat exchangers, Holtop's heat exchangers increase the vaporization area and contact surfaces higher vaporization efficiency and speed. At the same time, the honeycomb fin structure increases the disturbance to the air, allowing the air and heat exchanger toexchange heat more thoroughly.
2.Imported World Famous Compressor
Holtop uses imported international brand compressors with low noise and high efficiency.
Excellent Cooling Components.
Holtop's high-efficiency cooling dehumidification system uses international famous brand cooling accessories: including solenoid valves, filters, etc., to ensure the reliability, stability, safety and performance of the dehumidifier.
3.Multiple Filters to Ensure Health
A large-area primary filter can effectively filtrate large particles such as hair and pollens.
HEPA-grade high-efficiency filter can easily purify harmful particles such as PM2.5, and the purification efficiency is over 95%.
The activated carbon and cold catalyst filter can double effectively remove harmful substances fiter such as formaldehyde, benzene and TVOC, as well as odor.
The UV sterlizing function (optional) can quickly kill 99% of bacteria, molds and viral viruses in the air.
4.Make the Moist Air Clean and Dry
HOLTOP fresh air purification and dehumidification system can simultaneously solve the problems of indoor environment, such as lack of oxygen, humidity and various pollutants like PM2.5.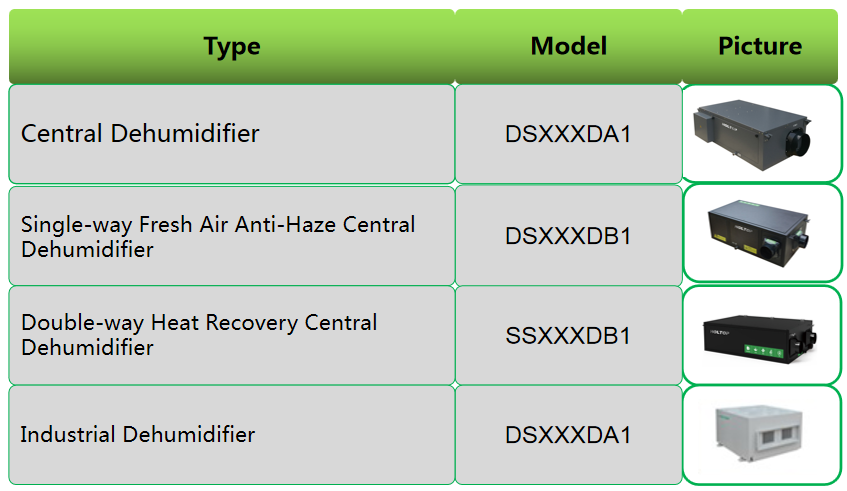 Central dehumidification series
Model

DS200DB1

DS500DB1

DS800DB1

DS1200DB1

Dehumidification 

capacity L/D

20

50

80

136

Airflow m3/h

200

500

800

1200

External pressure Pa

150

160

100

100

Filters

Primary filter

+High efficiency filter

+ Activated carbon, cold catalyst filter

Primary filter

+High efficiency filter

+Activated carbon

Purification

UV Sterilizing lamp (optional)

Negative ion

+UV Sterilizing lamp

Input Power KW

0.38

0.92

1.43

1.5

Current A

1.7

4.2

6.5

6.8

Voltage

220V/50Hz

220V/50Hz

220V/50Hz

220V/50Hz

Fresh air inlet size mm

Ø98

Ø98

Ø144

Ø200

Supply air outlet size mm

Ø98

Ø144

Ø194

Ø200

Return air inlet size mm

Ø110

Ø150

Ø194

Ø200

Machine size mm

700*405*265

775*450*340

880*580*370

1063*650*375

Weight kg

25

40

50

56

Suitable room size m2

10~40

80~100

150~200

150~200
Double-way Heat Recovery Central Dehumidifiers
Model

SS280DB1

SS600DB1

SS1200DB1

Dehumidification capacity L/D

26

76

136

Fresh air flow  m3/h

280

600

1200

Return air flow m3/h

170

360

720

External pressure Pa

50

80

100

Filters

Filters Primary filter + High efficiency filter +

Activated carbon

Purification

Negative ion + UV Sterilizing lamp

 

 

Input Power KW

0.6

1.25

1.55

Current A

2.7

5.7

7

Voltage

220V/50Hz

220V/50Hz

220V/50Hz

Air inlet size mm

Ø100

Ø100

Ø100

Machine size mm

1020*610*250

1154*640*320

1458*921*385

Weight kg

47

67

104

Suitable room size m2

10~40

80~100

150~200
Industrial Ceiling Duct Type Dehumidifiers
Model

DS2200DA1

DS4300DA1

DS5300DA1

Dehumidification capacity L/D

168

360

480

Air flow  m3/h

2200

4300

5300

External pressure Pa

120

150

150

Filters

Primary filter + High efficiency filter + Activated carbon, cold catalyst filter

 

 

Input Power KW

2.5

7.5

8.7

Current A

5

11

13

Voltage

380V/50Hz

380V/50Hz

380V/50Hz

Fresh air inlet size mm

625*580

1150*600

1150*600

Supply air outlet size mm

497*360

923*361

923*361

Machine size mm

1160*755*730

1347*1100*730

1347*1100*730
---
Previous:
Trending Products Best Fresh Indoor Air ECO-SLIM Energy Recovery Ventilator ERV with Internal Circulation Function
Next:
Trending Products Best Fresh Indoor Air Residential Commercial TH Series Energy Recovery Ventilators
---