Product Detail
Product Tags
Main Feature
The single-way fresh air filtration supply air booster fan system supplies outdoor fresh air to rooms with high purification. It's equipped with double filters with PM2.5 filtration rate of over 95%. The airflow ranges from 150m3/h to 15000m3/h for different applications. It can be used to work together with a Holtop energy recovery ventilator for better air purification either used independently for air purification in an air conditioning system.
It has the optional functions of indoor circulation. In the situation when it's not suitable to introduce outdoor fresh air, it can bypass the air in the room for indoor air purification only.
One product can solve all your air quality problem: fresh air, air purification and cleanness with much lower costs. Please don't hesitate to contact our sales team for more information.
Different installation ways for reference:
1)Single-way Fresh Air Filtration System Installation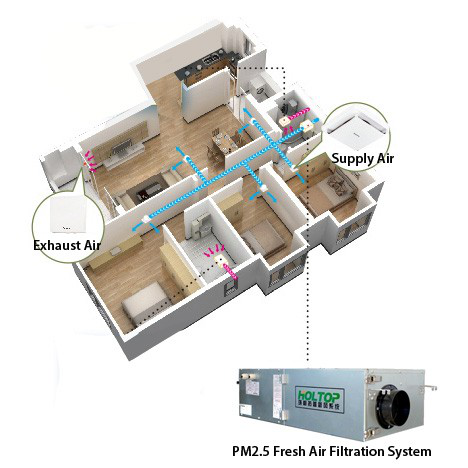 2)Single-way Fresh Air Filtration + Energy Recovery Ventilation System Installation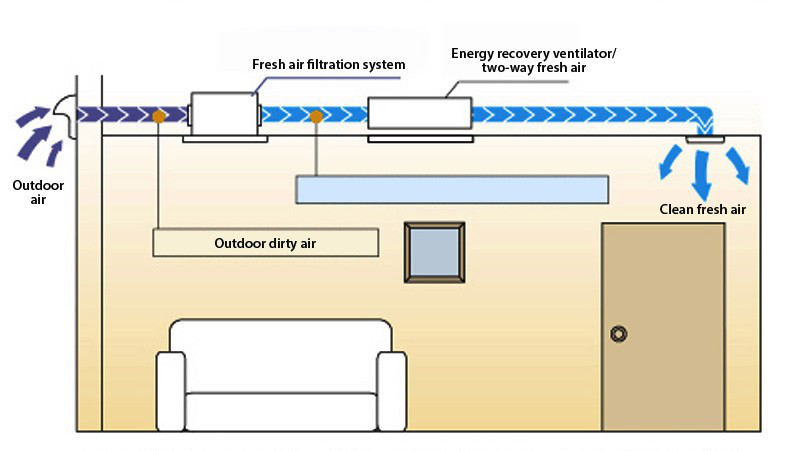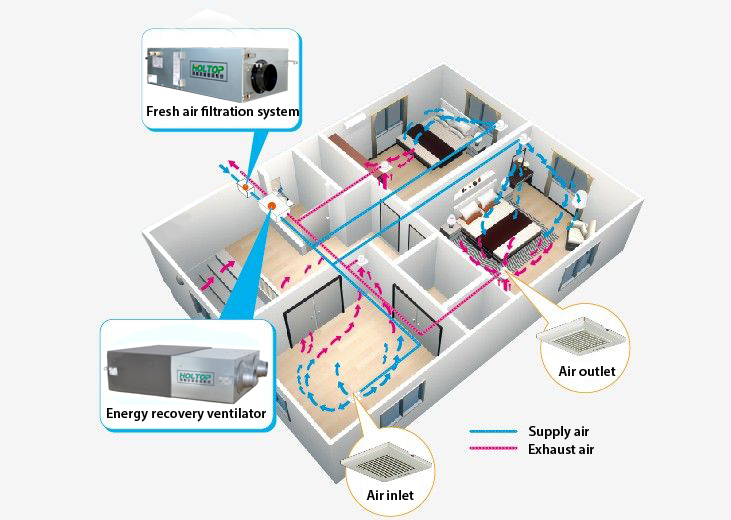 Specification:
Model

Airflow(m3/h)

External pressure(Pa)

Input power(W)

Current (A)

Noise dB(A)

Power supply

Weight

(kg)

L

M

H

L

M

H

L

M

H

L

M

H

L

M

H

DX1.5B2

120

150

150

55

68

88

45

53

56

0.25

0.3

0.31

25

31

32

220V/50Hz

14

DX2.5B2

210

250

250

45

55

65

59

82

90

0.3

0.41

0.45

30

33

34

220V/50Hz

14.3

DX3.5B2

260

350

350

53

70

80

113

172

180

0.58

0.83

0.85

32

36

37

220V/50Hz

18.5

KJ-06C

350

550

600

25

20

25

90

103

115

0.45

0.52

0.56

32

37

39

220V/50Hz

25

KJ-08C

700

800

800

130

150

170

140

200

238

0.7

1

1.2

35

39

41

220V/50Hz

25

KJ-10C

900

1000

1000

80

90

120

190

235

280

1

1.2

1.4

35

40

43

220V/50Hz

25

KJ-13C

1000

1300

1300

40

60

90

320

398

500

1.7

2.1

2.5

39

43

45

220V/50Hz

25
Model

Airflow(m3/h)

External Pressure(Pa)

Input Power (W)

Current (A)

Noise dB(A)

Power supply

Weight(Kg)

L

H

L

H

L

H

L

H

L

H

DX1.5B4

100

150

55

80

40

57

0.25

0.31

25

32

220V/50Hz

8

DX2.5B4

150

250

60

100

68

85

0.3

0.45

30

34

220V/50Hz

8

DX3.5B4

200

350

100

120

108

154

0.58

0.85

32

37

220V/50Hz

10.5
Model

Speed

Airflow(m3/h)

External Pressure (Pa)

Input Power (W)

Noise dB(A)

Power supply

Weight (Kg)

DX1.5DCB4

5

150

80

41

32

220V/50Hz

9

4

120

64

29

3

90

48

27

2

60

32

25

1

30

16

23

DX2.5DCB4

5

250

100

60

34

220V/50Hz

9

4

200

80

31

3

150

60

29

2

100

40

27

1

50

20

25

DX3.5DCB4

5

350

120

114

37

220V/50Hz

9.5

4

280

96

33

3

210

72

31

2

140

48

29

1

70

24

27
---
Previous:
Air Handling Unit with DX Coil
Next:
DX air handling unit
---