High Performance China Stainless Steel Spiral Water to Air Fin Tube Heat Exchanger
Product Detail
Product Tags
No matter new buyer or aged buyer, We believe in prolonged expression and trustworthy relationship for High Performance China Stainless Steel Spiral Water to Air Fin Tube Heat Exchanger, Prospects initially! Whatever you require, we should do our utmost that will help you. We warmly welcome clients from all over the planet to cooperate with us for mutual improvement.
No matter new buyer or aged buyer, We believe in prolonged expression and trustworthy relationship for China Heat Exchanger, Heat Exchanger Tube, The company attaches great importance to product quality and service quality, based on the business philosophy "good with people, genuine to whole world, your satisfaction is our pursuit". we design merchandise, According to customer's sample and requirements, to meet the needs of the market and offer you different customers with customized service. Our company warmly welcomes friends at home and abroad to visit, to discuss cooperation and seek common development!
Requirement for Ventilation of Hospital Building
Requirement of Air Safety

The hospital is the most densely public place for people who carrying bacteria and viruses, and is considered as the gathering center of pathogenic microorganisms. Not only the patients but also the hospital workers may also carry bacteria and viruses. So air in the hospital have to be kept highly purified to avoid the cross infection.

Requirement of Air Quality

Patients are the vulnerable groups, with poor ability of receptivity and adaptation. Indoor environment would discernibly impact on their recovery and even an important factor. Hospitals need good indoor air quality to improve the treatment environment for patients' quicker recovery.

Requirement of Energy Consumption

Hospitals are large consumers of energy. The energy consumption of air-conditioning systems takes more than 60% of the total energy consumption of buildings. A high-efficient and energy-saving air conditioning system solution could not only meet the requirement of ventilating but also reduce air conditioning energy consumption effectively.

Requirement of Intelligentization

Intelligentization is an inevitable trend in the development of hospital buildings. Such as equipment centralized control and management, real time monitoring of energy consumption, automated operation & on-demand of ventilation system. Intelligentization has become an important manifestation of the medical environment and the quality of hospitals.It is also an important part of green buildings. 
The internal ventilation of hospital needs independent area control, different areas need different ventilation, and the airflow control is more complicated. In general, there are four principles:

Make sure the fresh air is led in from clean area, and driven to 

semi-contaminated area, and then the contaminated area by 

pressure differential, till it is exhausted to outdoor, so as to avoid 

the backflow.

To meet the fresh airflow need of healthy person and patients. 

At the same time, take consideration of the air exchange rate for 

contaminated area, air pressure differential factors etc to select 

the minimum fresh airflow.

Keep the continuity of fresh air supply for 24 hours. More 

emphasis should be laid on the airflow organization in hospital. 

Keep the air quality at anytime.

By mornitoring the air quality and auto-regulating the fresh/ 

exhaust airflow based on the air quality sensor, each room 

could be controlled separately or by upper control system, for a 

maximum energy saving.
Ventilation Requirement in Different Areas of Hospital

In the office and duty room, fresh airflow could be calculated based on air circulation ratio of 4-5 times/ 

hour, to determine the exhaust airflow and maintain indoor positive pressure.




In the meeting room, fresh airflow could be calculated based on density of 2.5m2 /person or 40 m3/

hour*person, to determine the exhaust airflow and maintain indoor positive pressure.

Considered the need of attendants and patients, fresh airflow could be calculated by standards of 50-

55m³/sickbed in public ward, 60m³/sickbed in children's ward, and 40m³/sickbed in infectious ward, to 

determine the exhaust airflow and maintain negative pressure.

Fresh airflow in the corridor(where only supply air is needed) is based on ventilation rate of 2 times/hour to 

keep a slight negative pressure; and 10-15 times/hour in the toilet and dirt agency for a negative pressure.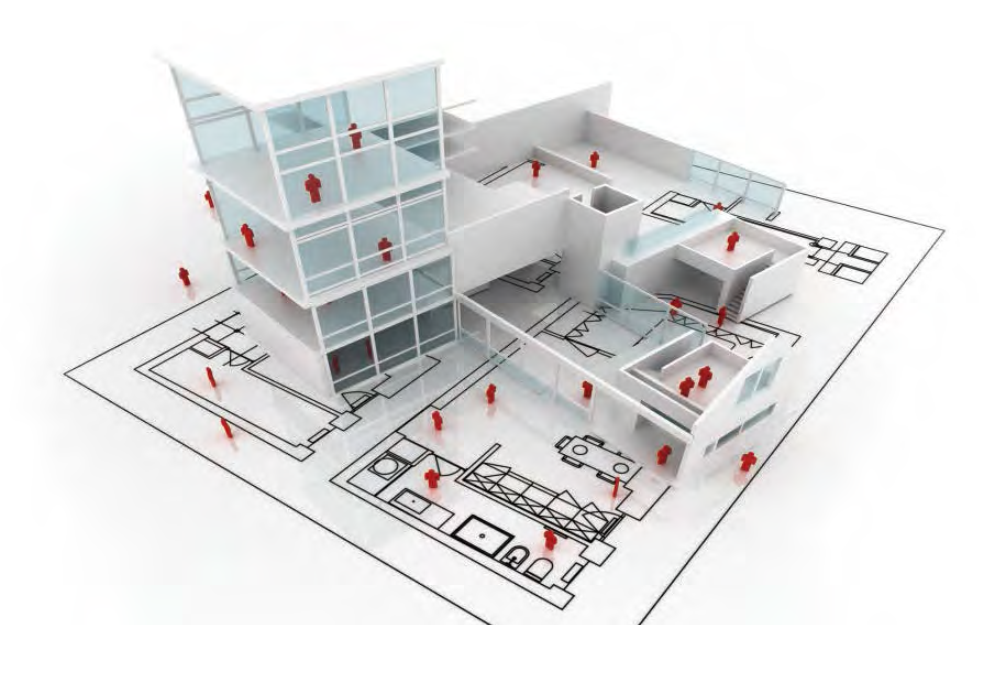 Holtop System Solution
How to satisfy the building ventilation demand such as Hospital?
Holtop provides complete and scientific HVAC solution to hospital for customer's trouble shooting, separate solution for each hospital. Even with the same medical equipment, and the same design from design company, Holtop will always provide a customized and exclusive solution accordingly by considering the site condition, the equipment, running and further development.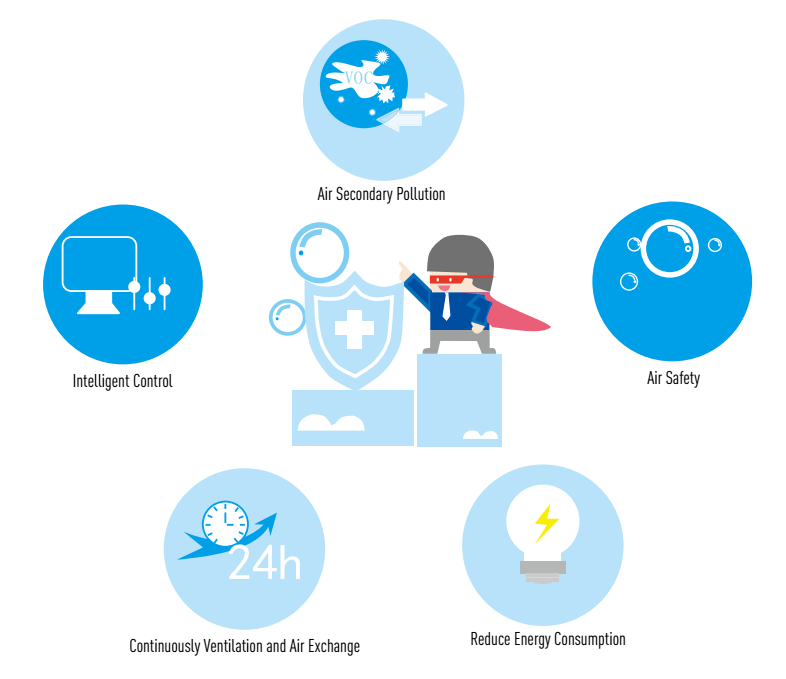 Digital Intelligent Fresh Air Ventilation System
Whether the system design is perfect or not, whether the function configuration is reasonable or not, will directly affect the efficiency of the whole system. At the same time, it will also have great influence on the front-end investment and the running costs. So Holtop will select item according to high standard, high performance, high configuration and low cost.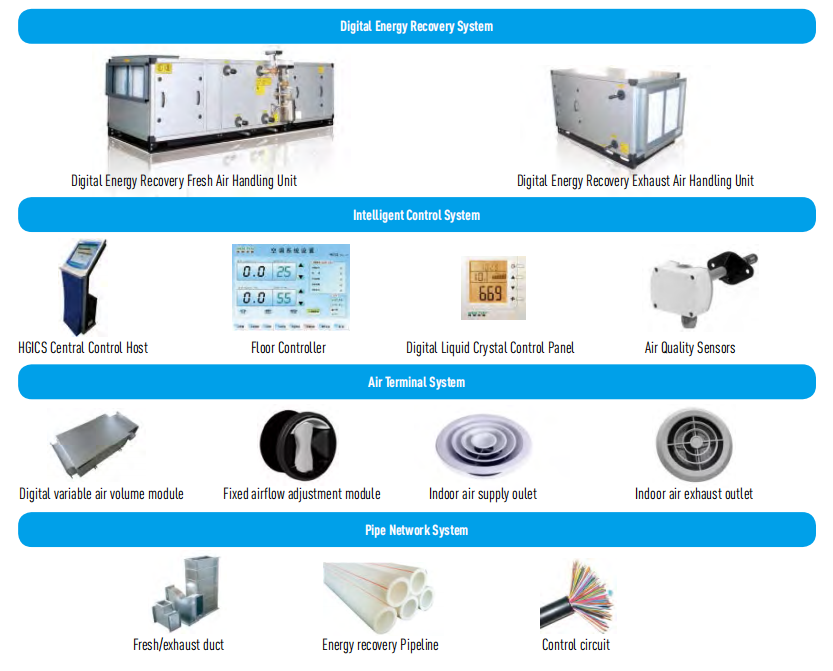 Digital Intelligent Fresh Air Ventilation System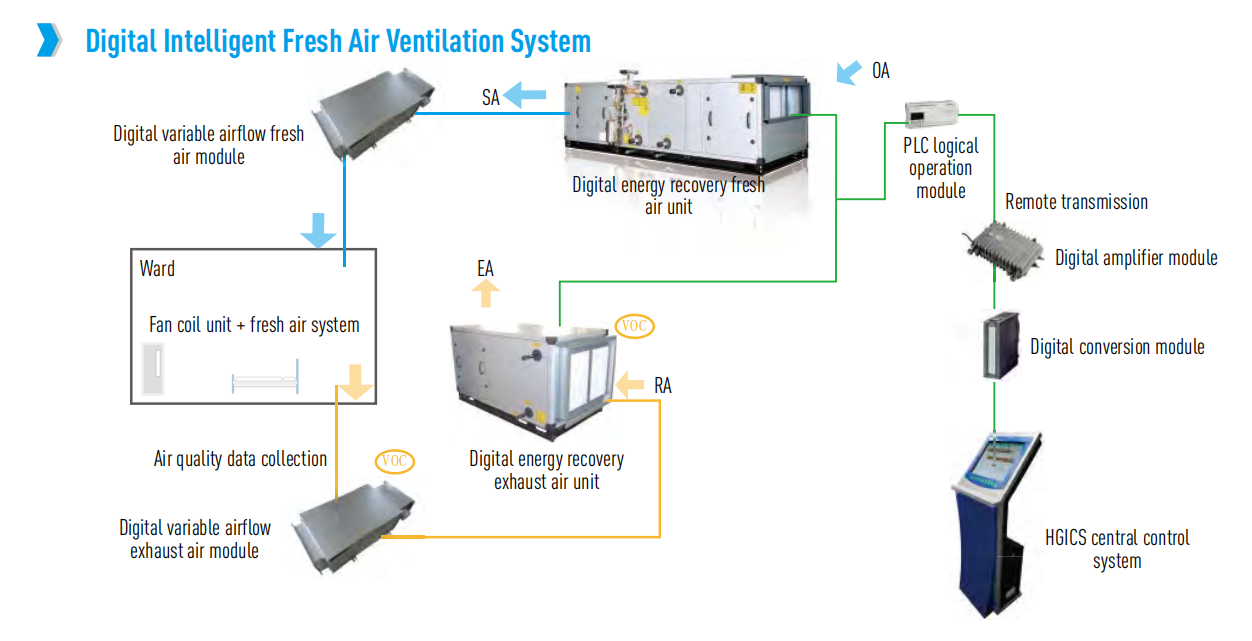 According to the characteristics of different types of buildings and the needs of users, system of different forms and different economical standards can be
customized. For example, in a hospital ventilation system, which is usually divided into clean, semi-polluted and contaminated areas, step-by-step air pressure
differentials should be established in each area to control the flow of air from the clean area to the contaminated area and prevent the high-risk air from spreading
freely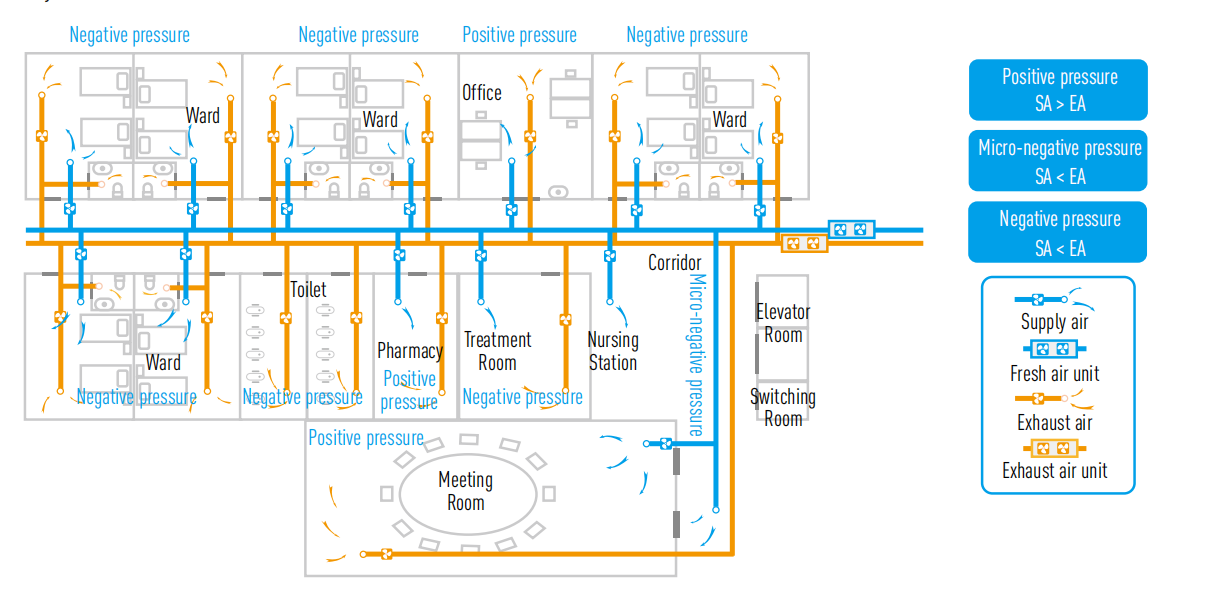 ---
---