The definition given by AIVC for smart ventilation in buildings is:
"Smart ventilation is a process to continually adjust the ventilation system in time, and optionally by location, to provide the desired IAQ benefits while minimizing energy consumption, utility bills and other non-IAQ costs (such as thermal discomfort or noise).
A smart ventilation system adjusts ventilation rates in time or by location in a building to be responsive to one or more of the following: occupancy, outdoor thermal and air quality conditions, electricity grid needs, direct sensing of contaminants, operation of other air moving and air cleaning systems.
In addition, smart ventilation systems can provide information to building owners, occupants, and managers on operational energy consumption and indoor air quality as well as signal when systems need maintenance or repair.
Being responsive to occupancy means that a smart ventilation system can adjust ventilation depending on demand such as reducing ventilation if the building is unoccupied.
Smart ventilation can time-shift ventilation to periods when a) indoor-outdoor temperature differences are smaller (and away from peak outdoor temperatures and humidity), b) when indoor-outdoor temperatures are appropriate for ventilative cooling, or c) when outdoor air quality is acceptable.
Being responsive to electricity grid needs means providing flexibility to electricity demand (including direct signals from utilities) and integration with electric grid control strategies. 
Smart ventilation systems can have sensors to detect air flow, systems pressures or fan energy use in such a way that systems failures can be detected and repaired, as well as when system components need maintenance, such as filter replacement."
Holtop smart energy recovery ventilation system supports WiFi remote control function. Users can easily monitor the indoor air quality index from the APP. There're  function like variable Setting, optional language, group control, family sharing, etc. Check the smart ERV controllers and get the quotation now!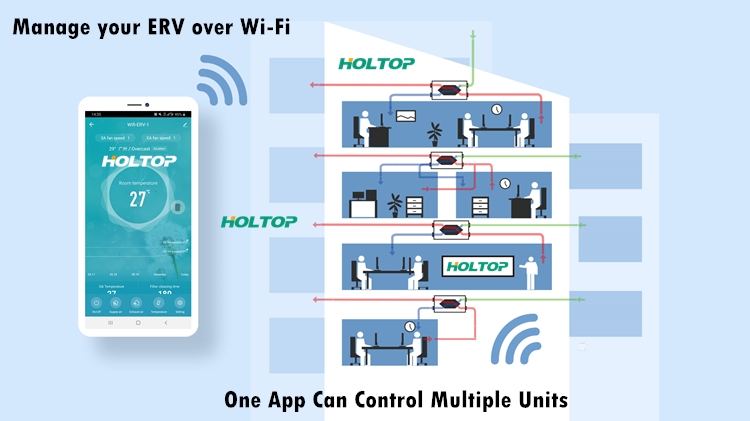 ---
Post time: Aug-03-2021