(Fighting against New Coronary Pneumonia) Zhejiang: Students may not wear masks during class
China News Service, Hangzhou, April 7 (Tong Xiaoyu) On April 7, Chen Guangsheng, executive deputy director of the Zhejiang Provincial Prevention and Control Work Leading Group Office and deputy secretary-general of the Zhejiang Provincial Government, said that after resuming classes, proper classroom ventilation should be maintained. Next, students may not wear masks during class.
On the same day, a press conference on the prevention and control of the new coronavirus pneumonia in Zhejiang Province was held in Hangzhou, Zhejiang. Earlier, Zhejiang issued a notice that schools of all levels and types in the province will start in batches in an orderly manner starting April 13, 2020. In order to ensure the safety of the school, Zhejiang teachers and students will continue to enter the campus with the health code and temperature measurement.
Chen Guangsheng said that due to the establishment of a school-by-school confirmation system for school start conditions in Zhejiang, and strict implementation of the "health code + temperature measurement" campus access, all-day health monitoring and other mechanisms, students may not wear masks during class. At the same time, students are also allowed to wear masks to attend classes on their own, or intermittently on campus.
"Schools can stipulate the bottom line for wearing masks for students, but they don't have to be uniform, and can be more inclusive, but each school must maintain a safe campus environment that allows students to be assured of not wearing masks." Chen Guangsheng said.
At present, the emergency response of Zhejiang epidemic prevention and control has been adjusted to three levels. Due to the difference in the epidemic situation in different cities and counties in Zhejiang, Chen Guangsheng said that the specific conditions for students to wear masks are determined by localities. However, it is recommended to wear masks as much as possible when going to and from school or in public places outside the school. He believes that it is absolutely necessary for students to enhance a little personal protection awareness. (Finish)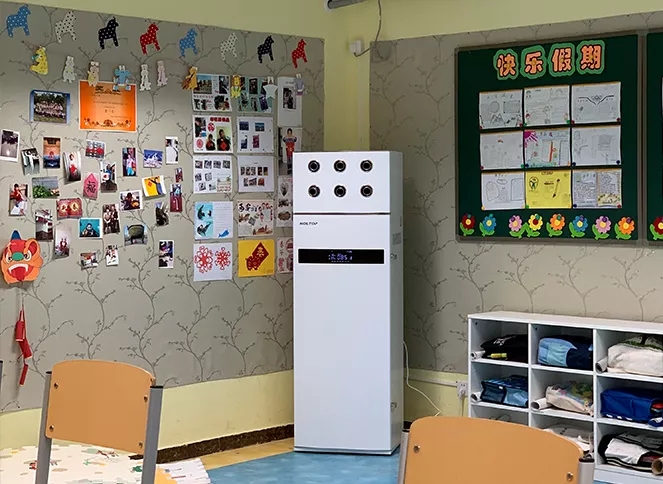 Holtop energy recovery ventilators widely installed in kindergarten, schools, universities. 
---
Post time: Apr-08-2020