Air conditioning, basically every family has. It can keep us cool in summer, and keep us warm in winter, it knows our cold and hot better than our partner. But to maintain good indoor air quality, only air conditioner is not enough. For residential house, normally we will consider to get a air purifier to purify the air at home to help filter out indoor allergens and pollutants like fumes from cooking and cleaning products. And that's especially true now, when so many people are stuck indoors 24/7 because of the coronavirus pandemic. But you may also be wondering if an air purifier can prevent COVID-19 by capturing virus particles that could be traveling in the air. But even if you live with a healthcare worker or someone sick with COVID-19, before you run out to buy an air purifier, experts from CR (Consumer Reports) say that simply opening up the windows in your home to let in fresh air will help dilute indoor contaminants—including virus particles.
If airing out the room isn't an option, you could try using a high-efficiency particulate air (HEPA) purifier. In this case, the mechanical ventilation system with high efficiency filter is another good option to reduce transmission of the novel coronavirus.
Which one is better, the air purifier or the mechanical ventilation system? Is it necessary to install?
The ventilation system evolved from the exhaust fan. Later, due to air pollution problems, ventilation systems with filtering functions emerged. Its function is that the outside air supply to the room through the filters, while the indoor stale air drawn out to the outside. Therefore, the most important function of the fresh air system is ventilation and filtering. The balanced ventilation is more effective to exchange the indoor air with fresh air, and quickly dilute indoor contaminants. If it's built in heat exchangers, then it will become a heat and energy recovery ventilator to optimize indoor temperature and humidity while saving energy.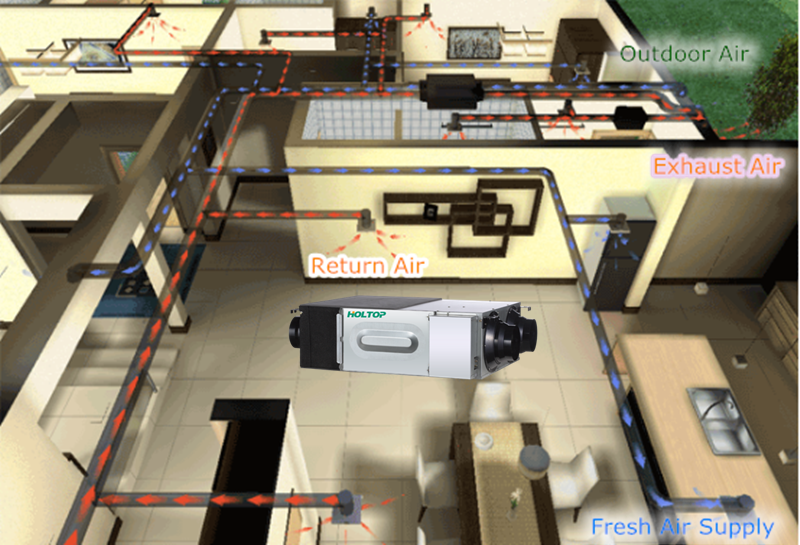 Filter? Purifier can do it too.
When it comes to filtration, you might think of an air purifier, because its role is to filter impurities in the air.
However, there is a fundamental difference between an air purifier and a fresh air system, because the purifier can only circulate the air indoors, and filter the harm particles in the air we breathe back and forth.
But the ventilation system can dilute harm particles and even expel them out. 
"We don't yet have direct evidence that filtration works to reduce transmission of the novel coronavirus,"says Jeffrey Siegel, an indoor air quality expert and professor of civil engineering at the University of Toronto who has researched portable air purifiers with various airborne particles.
"But we can infer from what we know for similar viruses, like SARS," he says, that there is reason to think air purifiers might help in some situations.
In 2003, during the SARS outbreak, the Hong Kong Hospital Authority recommended hospitals use portable air purifiers with HEPA filters to help reduce transmission to healthcare workers if isolation wards were not available. In the U.S., the CDC also recommended the use of HEPA purifiers to help reduce viral concentrations of the SARS virus in the air when properly ventilated hospital rooms weren't available. [1]
Holtop air purifier adopts medical grade disinfection purification technology, the sterilization rate is up to 99.9%. Clean Air Delivery Rate (CADR) is 480-600m3/h. It is suitable for area 40-60m2, effectively remove odor and purify PM2.5, haze, pollen, dust, VOCs. HEPA filter is optional. According to the tests in the national authority lab, the disinfection rate for viruses HINI and H3N2 is over 99%.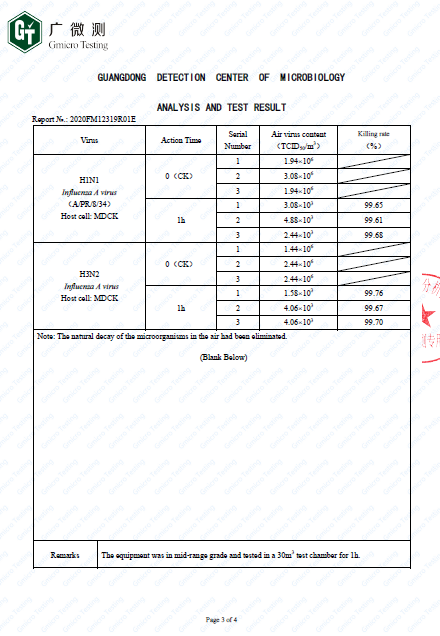 To sum up, both air purifier and ventilation system is a good way to reduce transmission of the novel coronavirus. Customers should choose based on the application spaces, noise level, investment budge, installation way, etc. Holtop can offer you both options, to select the suitable products for your projects or business, please contact our sales team for more information.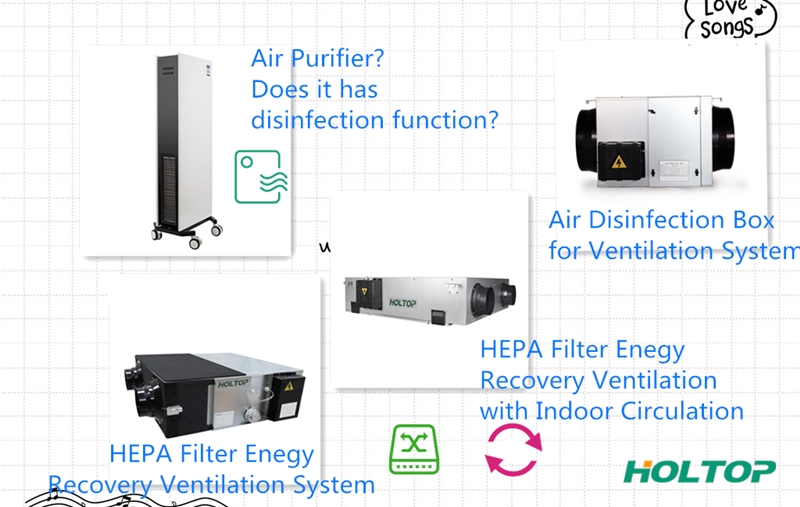 [1]Date from What You Need to Know About Air Purifiers and the Coronavirus
https://www.consumerreports.org/air-purifiers/what-to-know-about-air-purifiers-and-coronavirus/
Pay Attention to Install Fresh Air System
If you decide to install a fresh air system at home, in addition to knowing that the fresh air system is more effective than a purifier and cannot replace air conditioning and heating, you also need to know the issues that need to be paid attention to when buying and installing the fresh air system.
About air volume
Before buying a fresh air system, it's recommended to choose a fresh air system that is suitable for your own air volume based on the area of your house.
However, the larger the fresh air system, the bigger the noise, and higher costs. So. It's important to know the noise, energy consumption, air volume, and heat exchange rate for selection of a suitable products. And we should decide to choose the ac motor or dc motor for low noise and energy consumption.

About installation
The ventilation system has three installation ways: suspended, floor standing and wall-mounted type.
For new buildings, we recommend the ceiling type, because it is easy to install and does not affect decoration; besides, the air flows more even, and air circulation is better.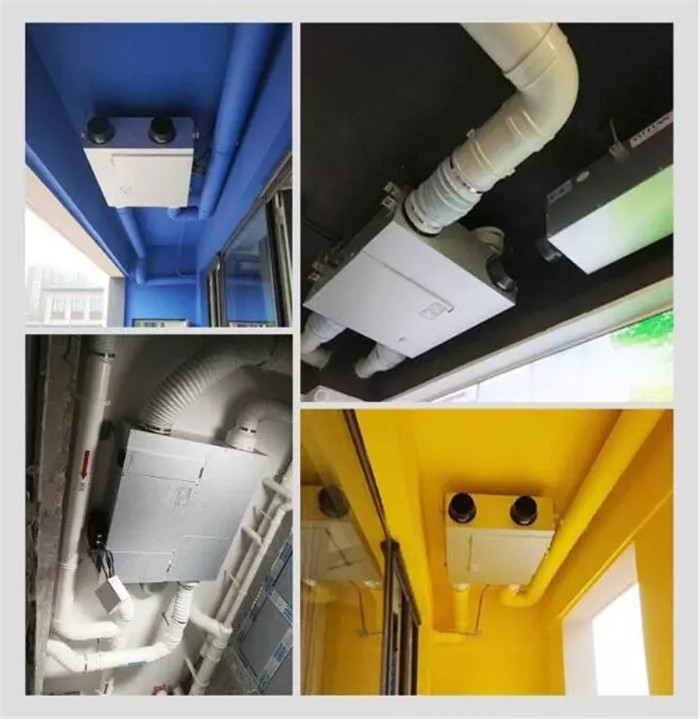 For existing buildings, we recommend the floor standing and wall-mounted installation. Because they can be designed to be ductless design, easy to install and maintain.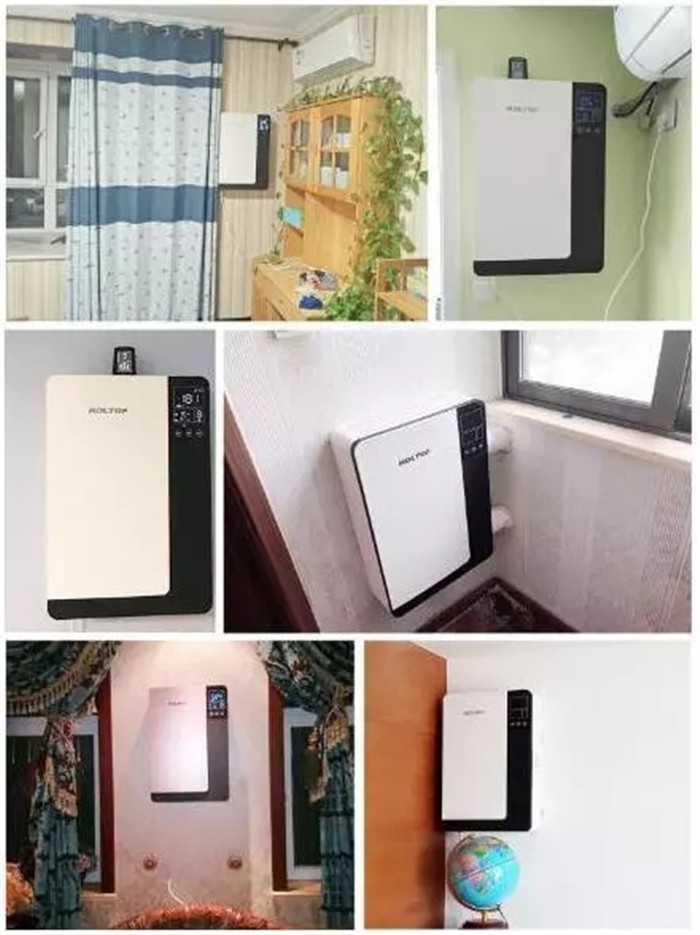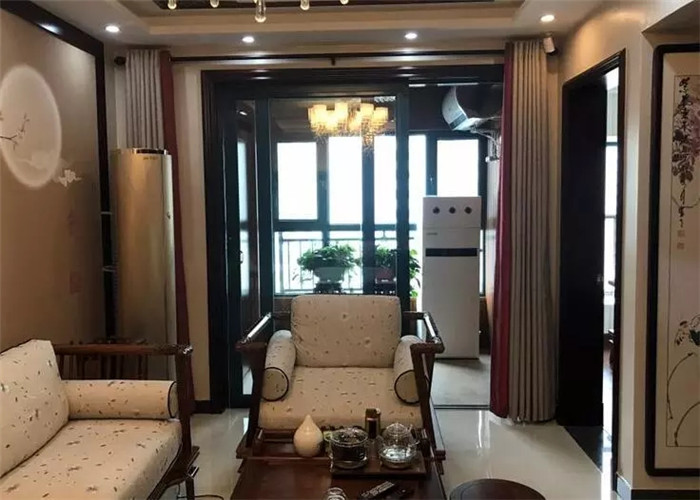 About maintenance
When the air volume of supply air or exhaust air decreased, the filter may be over dusty. The filters should be cleaned or replaced timely.
To ensure efficient operation, regular cleaning or replacement of filters is required. Filter maintenance frequency will depend on working environment and unit running time. It's recommended to clean the filters 2 or 4 times every year. For some dusty or polluted environment, it's recommended to clean and maintain the filter every 1-2 months.
Customers can vacuum the filters to get rid of the dust and dirt. For bad conditions, the primary filters are washable in the warm water with neutral detergent. If the filters are too dirty or broken, they should be replaced. The PM2.5 filter is not washable. When it's too dirty, it should be replaced.
For the ERV with HEPA filters, since the HEPA filter is not washable, it is recommended to change every 10 to 12 months.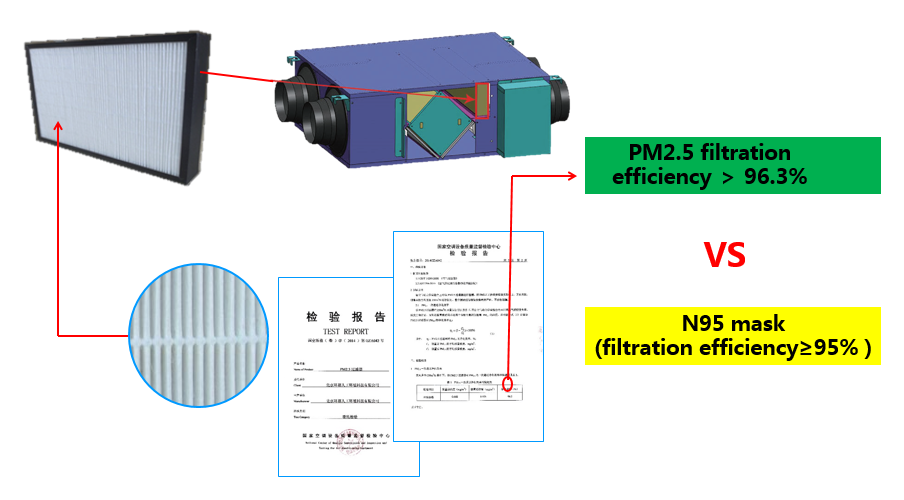 It is recommended to maintain the heat exchanger every 3 years. 
---
Post time: Jul-09-2020