HOLTOP Commercial Small Ceiling Fresh Air Ventilation System-the First Choice For Commercial Applications Such as Offices and Schools!
Ceiling Series Energy Recovery Ventilator, Fresh Air Purification Ventilator 
HOLTOP small ceiling energy recovery ventilator (air cleaner) is tailored for commercial customers. It has a compact structure, multiple functions, high efficiency, and a PM2.5 purification efficiency of 95%. At the same time, it uses a special motor for air conditioners with three-speed adjustable(Eco Vent). Optional DC models (Eco Smart) are equipped with a high-efficiency DC motor. The equipment has the characteristics of low noise, stable operation and safety.
Widely used in the offices, banks, kindergartens, schools and other places.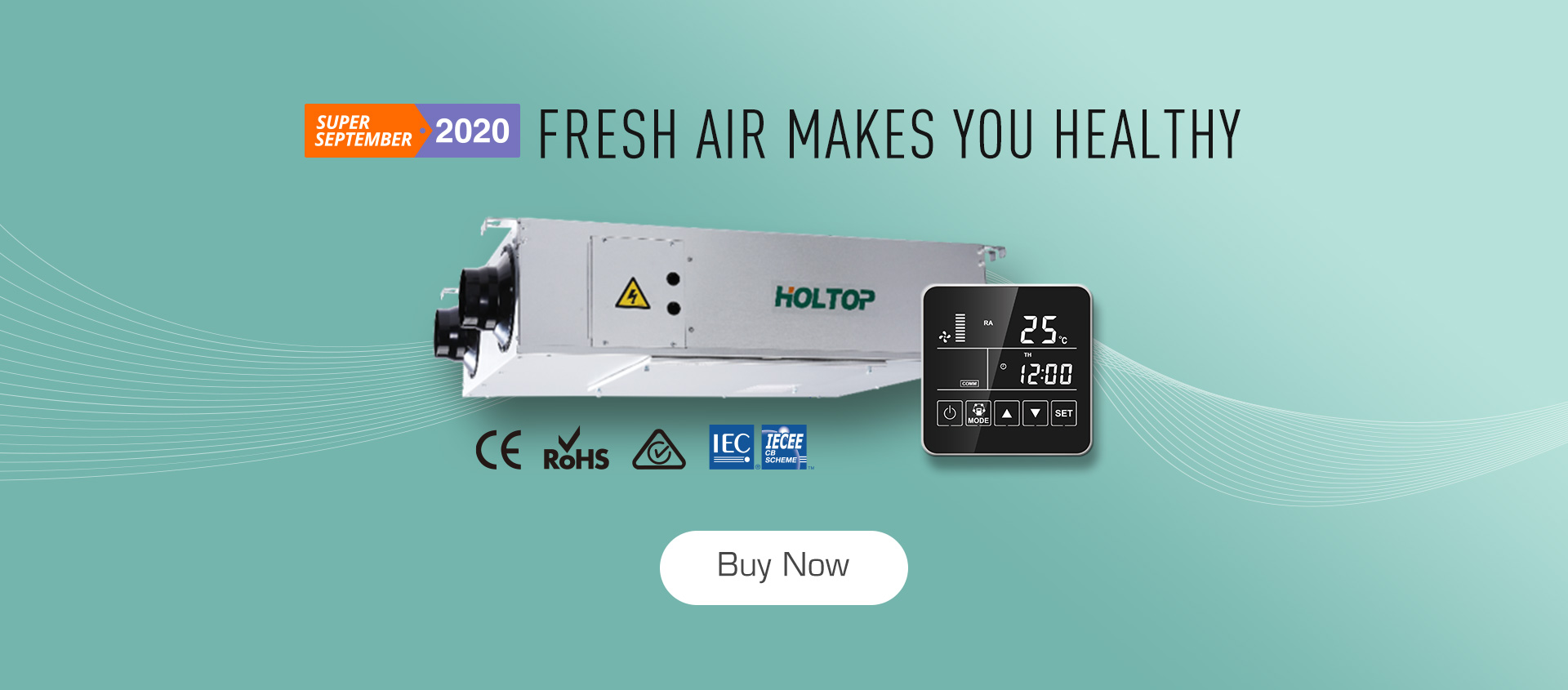 Balanced Ventilation for Sufficient Fresh Air
It has an independent supply air and exhaust air system to send in fresh air and exhaust dirty air to continuously and effectively reduce the concentration of pollutants, and keep the indoor air fresh with high content of oxygen.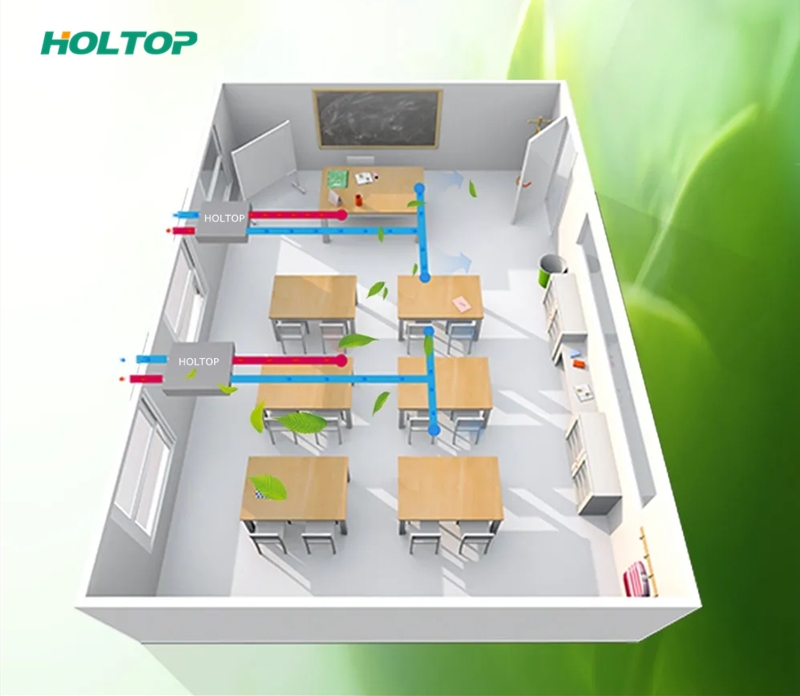 High Efficiency Filtration for Cleaner Air
Multiple pure physical filtration system.
The filtration efficiency of sub-HEPA filter model is up to 95%.
Continuously provide fresh air with higher cleanliness to the room.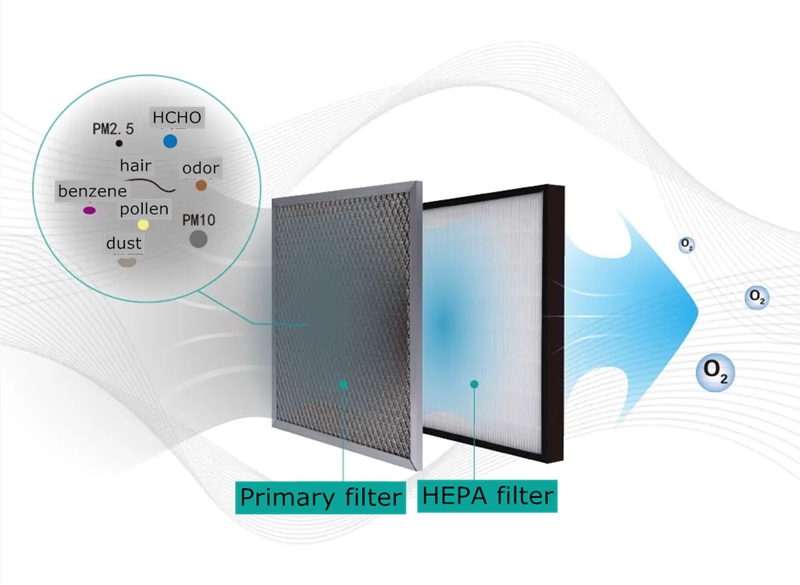 Total Heat Exchange for Optimal Temperature
HOLTOP total heat exchanger recovers energy from the exhaust air both in summer and in winter.
The supply air temperature is closed to room temperature.
The human body feels very comfortable, and saving electricity.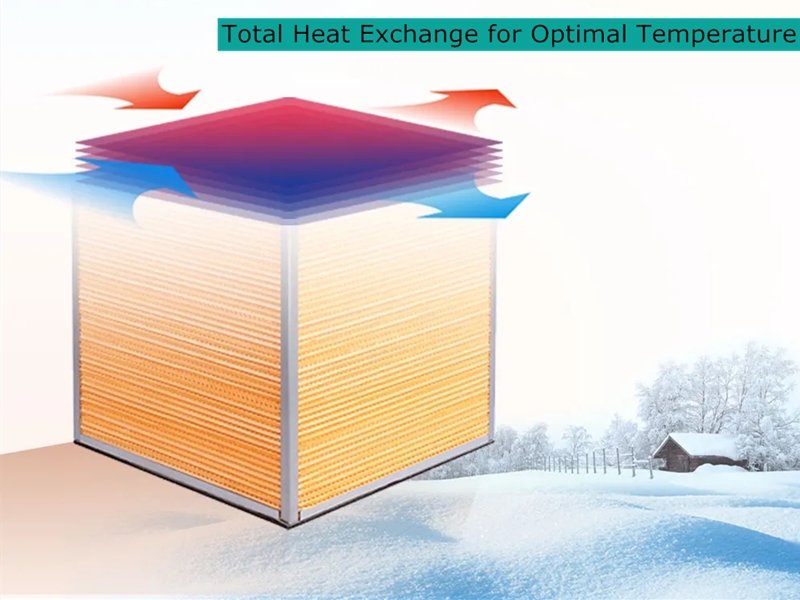 EPS Inner Structure for Good Insulation
Thermal insulation, anti-condensation, lightweight, environmental protection and no odor.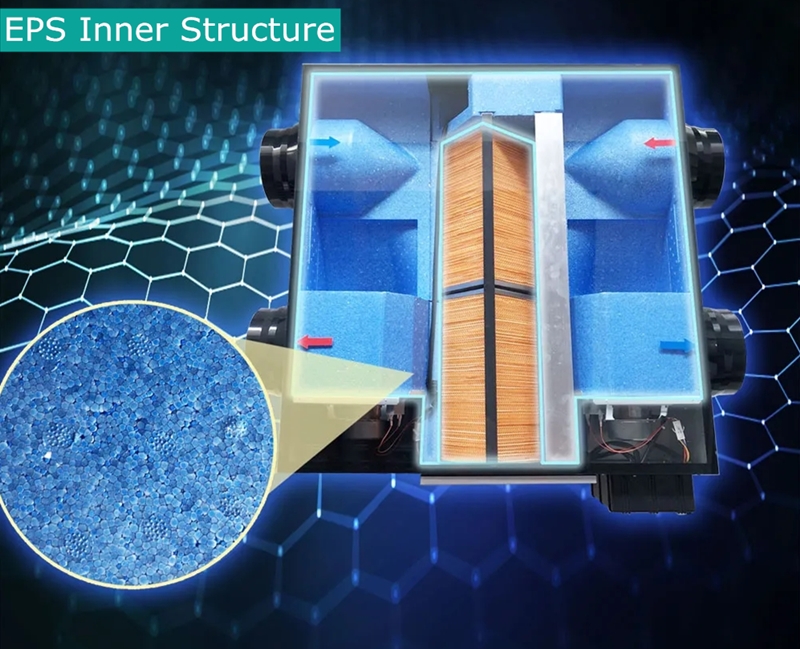 Bypass System for Saving Energy
When the bypass function is turned on during the transition season, the fresh air is filtered and sent directly into the room, which not only provides comfortable fresh air but also protects the heat exchanger.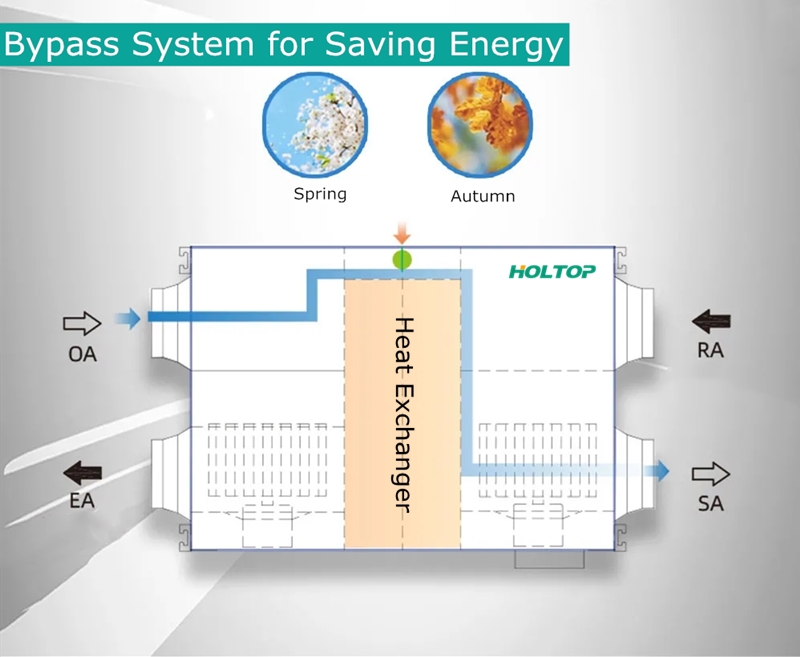 Three-Speed Control
High-quality fan, powerful air supply and 3 speed levels of adjustment, suitable for air supply requirements in a variety of scenarios. Fresh air can be delivered with longer distance, covering larger area.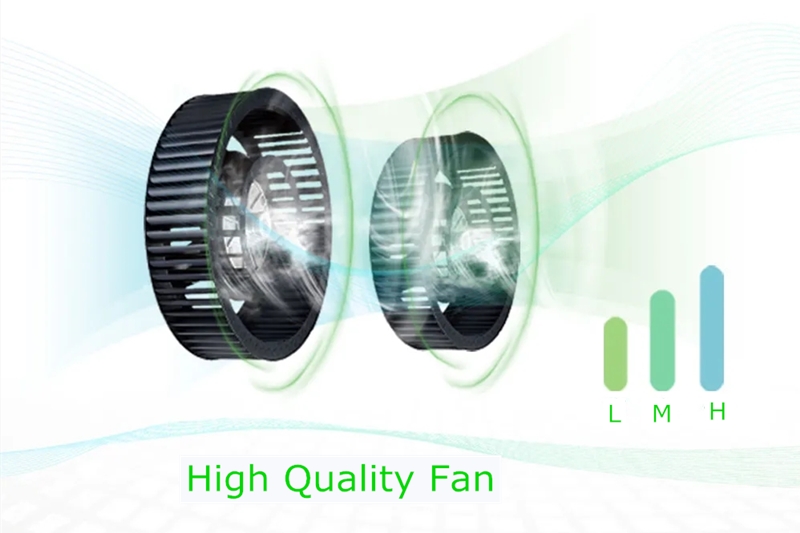 Quiet Design for Lower Noise
Optimize the design of the air channels and improve the sound insulation performance. Ensuring the excellent mute effect of the whole machine to deliver an inaudible fresh air experience.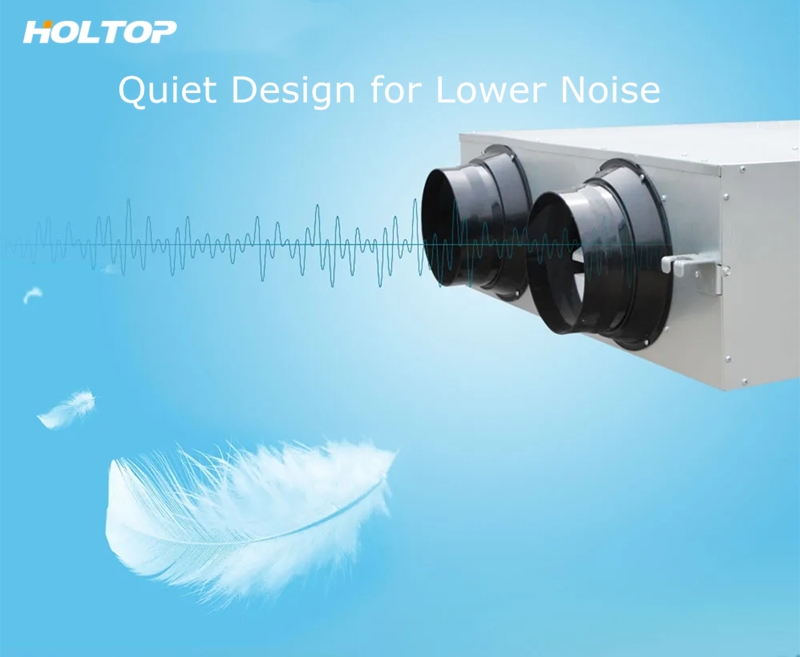 User Friendly Control
Programmable large-screen LCD controller with multiple control functions:  weekly timer for 4 times a day, manual or automatic control, filter replacement reminder, etc.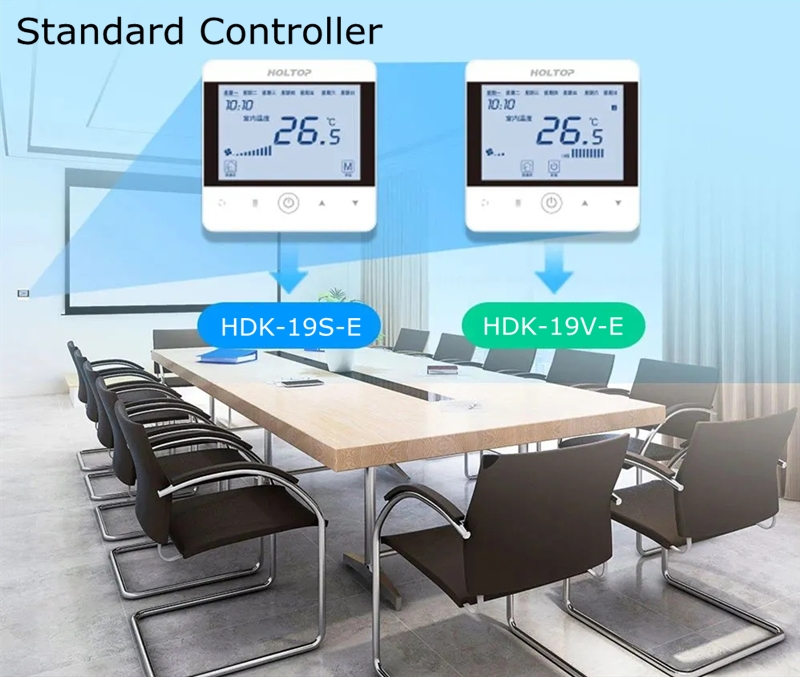 Easy Installation and Maintenance
Ceiling installation and side maintenance can be installed upside down according to needs, with high flexibility and convenient maintenance.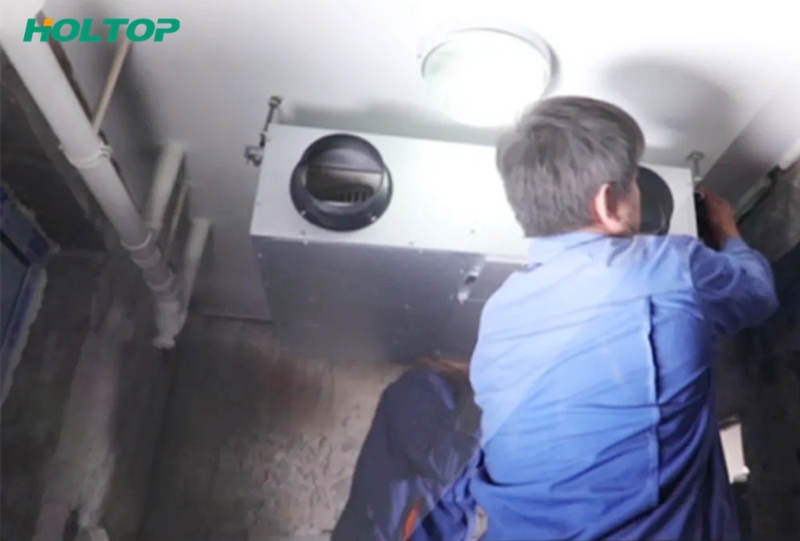 Professional Technical Guidance
HOLTOP provides professional technical support, sales agencies covering the China whole country, timely meets customer needs, and provides users with comfortable, energy-saving and reliable fresh air solutions and products.
Holtop also invite customers worldwide specialized in HVAC&R business to distribute, market and sell our products. If you are interested in becoming Holtop agent or distributor, please send email to sales@holtop.com and provide your company information for our evaluation. We will contact you within the next business day.
---
Post time: Nov-23-2020