Global Air Purifier Market is segmented By End-User (Introduction, Residential, Commercial, Others), By Technology (HEPA, Activated Carbon, Others), and By Region (North America, Latin America, Europe, Asia Pacific, Middle East, and Africa) – Share, Size, Outlook, and Opportunity Analysis, 2020-2027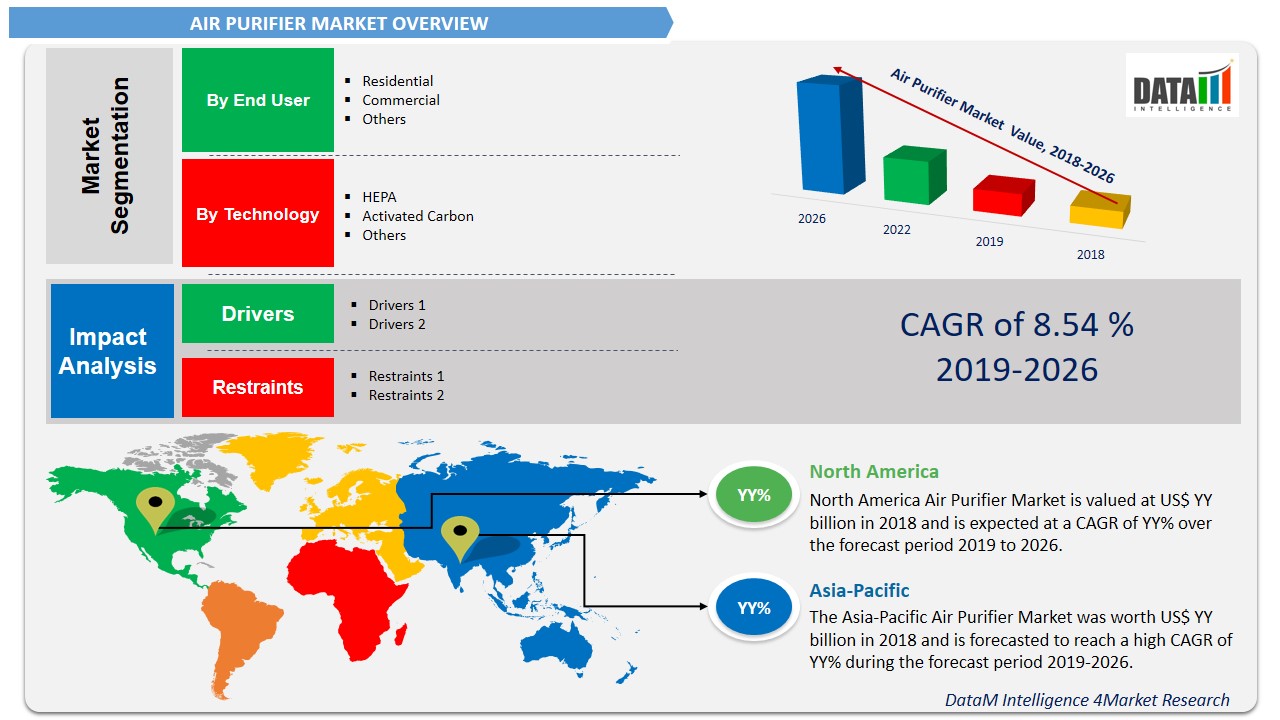 Market Overview
The Global Air Purifier Market is expected to grow at a CAGR of 8.54% in the forecast period of 2020-2027

An air purifier is a device that removes contaminants from the air and improves air quality. Air purifiers are also considered beneficial for people with allergies and asthmatics, and at reducing or eliminating second-hand tobacco smoke.

For instance, AP600TA air purifier is a disinfection type air purifier. It a

dopts medical grade disinfection purification technology.

Effectively remove odor, smoke, haze, pollen, dust, VOCs, 

bacteria, virus, etc. Suitable for home, office, school and 

medical places.

The commercially graded air purifiers are manufactured as either small stand-alone units or larger units that can be affixed to an air handler unit (AHU) or to an HVAC unit found in the medical, industrial, and commercial industries. (eg. Holtop air disinfection box)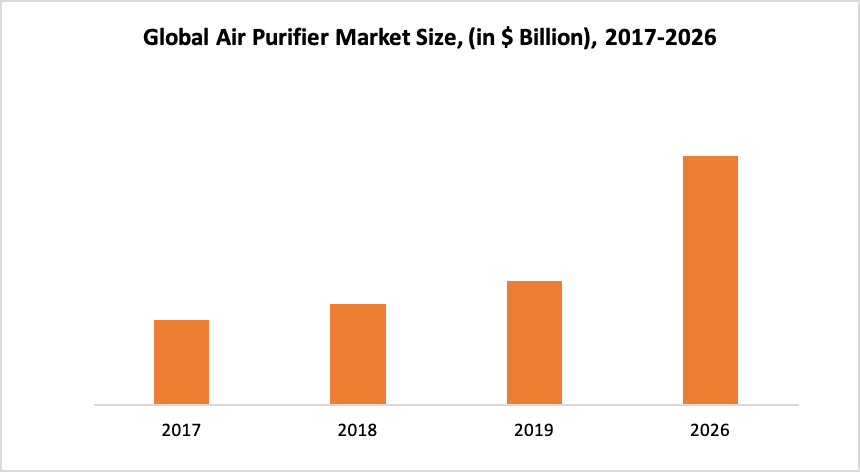 Market Drivers
The global Air Purifier Market is primarily driven due to growing awareness about the adverse effects of air pollution on health.

The World Health Organization (WHO) estimates more than four million deaths worldwide every year are attributed to ambient air pollution.

Nearly 90% of air-pollution-related deaths occur in low- and middle-income countries, with nearly 2 out of 3 occurring in WHO's South-East Asia and Western Pacific regions. 94% are due to noncommunicable diseases such as cardiovascular diseases, stroke, chronic obstructive pulmonary disease and lung cancer.

Air pollution also increases the risks for acute respiratory infections.

As intake of polluted air can have severe health effects such as asthma, COPD, or increased cardiovascular risks, most countries have strengthened laws to control the air quality and mainly focus on emissions from automobiles.

Air purifiers removes smoke particles which pose a risk to health. Moreover, efficient air purifiers have the capacity to capture some bacteria, virus, and DNA damaging particles.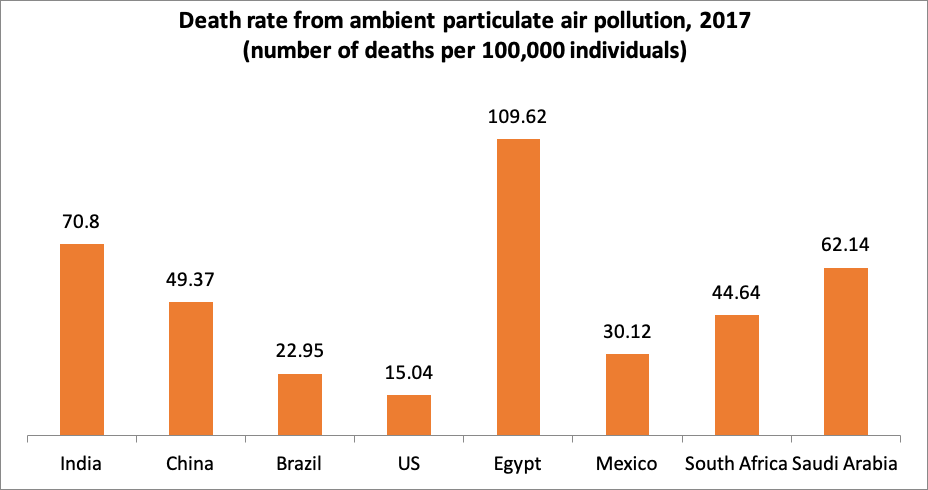 Market Restraints
Air Purifier has some disadvantages such as the high initial and maintenance cost.

An air purifier can range from $200 to $2,000. In addition, the cost of filter change and its maintenance is also very high as air purifier needs regular filter change which can be in every three months to six months.

These replacement filter costs ~$100. Huge cost associated with air purifiers is expected to negatively affect the growth of the market.
Market Segmentation
By end-user, the global Air Purifier Market is segmented into residential, commercial, and others.

In 2018, the residential segment accounted for the highest market share, and is expected to dominate the market during the forecast period, due to increased demand for smart air purifiers in the residential sector.

The major benefit of a smart air purifier is that users can track and control the indoor air quality and can change the basic settings through smartphones. Moreover, increase in awareness about the adverse effects of pollution on health is encouraging various electronics companies to develop advanced air purifiers. Majorly growing product awareness and rising disposable income will drive the residential segment in global air purifier market during the forecast period.

By technology, the global Air Purifier Market is segmented into HEPA (High efficiency particulate air), Activated Carbon, and Others (UV Technology-Based Air Purifier, Negative Ion Air Purifier, Ozone Air Purifier, Plasma Technology and Molecular Breaking Technology ). HEPA technology is expected to dominate the global market throughout the forecast period. HEPA air filters are the most efficient type of air filter available.

These are usually made of fiberglass and are 99.97% effective at removing particles as small as 0.3 microns. HEPA air filters are widely used in many high technology industries that demand high air quality.
Geographical Share
By geography, the global Air Purifier market is segmented into North America, Asia-Pacific (APAC), Europe, South America, and Middle East and Africa (MEA).

North America holds the significant market share, owing to greater disposable income, massive industrialization, environmental protection laws and increased awareness to curb pollution.

However, Asia Pacific is expected to dominate the market due to growing urbanization and the increasing pollution during the forecasted period, growing at CAGR of ~12%. Increasing pollution level in metropolitan cities of such as Delhi in India, Beijing in China, owing to increasing number of vehicles is expected to fuel market growth. Rising health awareness regarding benefits of air purifier can increase product demand in the region.

Introduction of new and advanced devices by local manufacturing companies can further impel market growth in the coming years.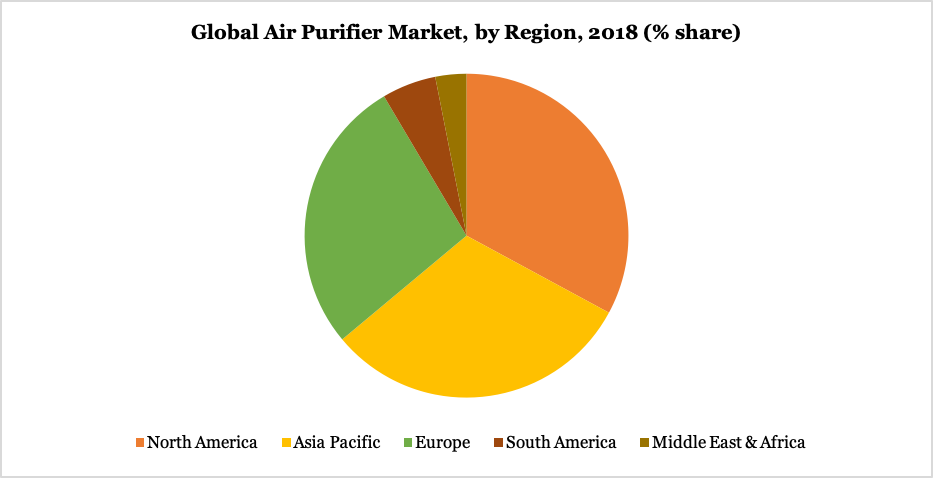 Competitive Trends
Key players are adopting strategies such as mergers and acquisitions, partnerships, regional expansion, and product launches to stand out as strong competitors in the market.

Global Air Purifier Market is a competitive market with the presence of various global and regional players in the market. 
---
Post time: Sep-21-2020