HOLTOP pe o lati be wa Booth ni HVAC R Expo ti awọn nla 5 Exhibition Dubai
Nwa fun awọn titun air karabosipo ati fentilesonu awọn ọja lati tẹ ifẹ rẹ ise agbese? Wá lati pade HOLTOP ni agọ NO.Z4E138, ni HVAC & R Expo ti awọn big5 aranse, Dubai lati 26 to 29 November, 2018.
Adirẹsi: ZA'ABEEL gbọngàn 4 & 5, Dubai World Trade Center.
Awọn Ńlá 5 aranse jẹ awọn ti ikole iṣẹlẹ ninu Aringbungbun East pọ okeere awọn olupese ti ikole awọn ọja ati iṣẹ pẹlu ti onra. HVAC R Expo jẹ apakan ti Big 5, ki o si HOLTOP yoo isẹpo yi iṣẹlẹ ki o si fi wa titun ati ki o gbona tita awọn ọja gẹgẹbi air mu kuro, àìpẹ okun kuro, ductless agbara recovery ventilator, aja iru agbara ooru recovery ventilator, air to air awo pipe, alabapade air dehumidifier ati iwapọ ducting eto. Yato si, wa egbe yoo se agbekale wa aseyori ise agbese elo ati ki o se ni awọn aaye ti ile HVAC solusan, cleanroom HVAC oniru, VOCs itọju, bbl
Holtop tọkàntọkàn pe o lati be wa fun iru nla iṣẹlẹ. A gbagbo a yoo ni kan dídùn Ọrọ fun win-win owo nipasẹ awọn pipe Syeed. Ti o ba ti o ba ni eyikeyi ètò lati be ni aranse, jọwọ imeeli wa rẹ ibewo akoko ki a le ni kan ti o dara akanṣe. E dupe!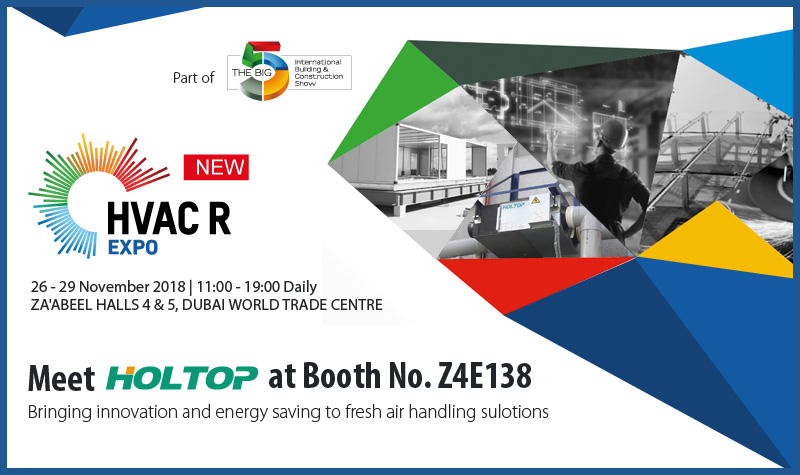 ---
Post akoko: Nov-18-2018