HOLTOP Koka You kushanyira Booth kwatinoita HVAC R Expo of BIG 5 Exhibition Dubai
Kutsvaga azvino mhepo kutonhodza uye kufefetedza zvigadzirwa huenderane zvirongwa zvenyu? Kusangana HOLTOP paitererwa NO.Z4E138, muna HVAC & R Expo of BIG5 Exhibition, Dubai kubva 26 kusvika 29 November, 2018.
Address: ZA'ABEEL Dzimba 4 & 5, Dubai WORLD Trade Center.
The Big 5 Exhibition ndiro rakakura kupfuura mamwe ose pakuvaka chiitiko kuMiddle East unobatanidza bhizimisi okuvaka zvinhu uye mabasa pamwe vatengi dzakawanda. HVAC R Expo chikamu Big 5, uye HOLTOP achaita kwemajoini chiitiko ichi uye kuratidza kwedu azvino uye inopisa rokutengesa zvinhu zvakadai semhepo kukurukurwa Unit, dzinoshandisa coils Unit, ductless simba kupora ventilator, sirin'i mhando simba kupisa kupora ventilator, mhepo kuti mhepo ndiro kupisa exchanger, matsva mhepo dehumidifier uye chiine ducting gadziriro. Kunze, chikwata chedu achasuma ibudirire chirongwa chikumbiro chedu nekuita mumunda chivakwa HVAC zvinogadzirisa, cleanroom hvac design, VOCs kurapwa, etc.
Holtop koka pachokwadi iwe tishanyirawo chiitiko kwakadai. Tinotenda tichava hurukuro inofadza kuti takunda zvisamumirira bhizimisi kuburikidza akakwana papuratifomu. Kana muine zano kushanyira pashoo, tapota paemail isu wako kushanya nguva kuitira kuti tigone kuva urongwa nani. Ndatenda!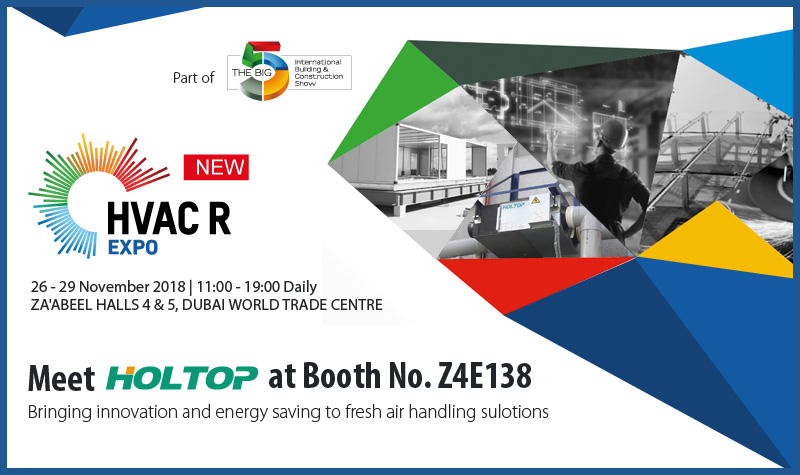 ---
Post nguva: Nov-18-2018