HOLTOP kiran ku zuwa Ziyarci Our Booth a HVAC R nuni da BIG 5 Nunin Dubai
Neman latest kwandishan da iska kayayyakin zuwa dace da ayyukan? Ku zo zuwa ga hadu HOLTOP a rumfar NO.Z4E138, a cikin HVAC & R nuni da Big5 Nunin, Dubai daga 26 zuwa 29 ga watan Nuwamba, 2018.
Address: ZA'ABEEL Majami'un 4 & 5, DUBAI World Trade Center.
The Big 5 Nunin ne mafi girma a yi taron a cikin yankin gabas ta tsakiya a haɗa kasa da kasa kaya na yi samfurori da kuma ayyuka da saye. HVAC R nuni ne wani ɓangare na Big 5, da kuma HOLTOP zai hadin gwiwa da wannan taron da kuma nuna mu latest da zafi tallace-tallace kayayyakin kamar iska handling naúrar, fan nada naúrar, ductless makamashi dawo da ventilator, rufi irin makamashi zafi dawo da ventilator, iska to iska farantin zafi Exchanger, sabo iska dehumidifier kuma m ducting tsarin. Bayan haka, mu tawagar za ta gabatar da mu nasara aikin aikace-aikace da kuma aiwatar a fagen ginin HVAC mafita, Cleanroom HVAC zane, VOCs magani, da dai sauransu.
Holtop gaske kiran ku zuwa ziyarci mu ga irin wannan babban taron. Mun yi imani za mu yi mai dadi magana ga win-win kasuwanci ta hanyar cikakken dandali. Idan kana da wani shirin ziyarci nuni, don Allah da email mu ka ziyarci lokaci haka da cewa ba za mu iya samun mafi tsari. Na gode!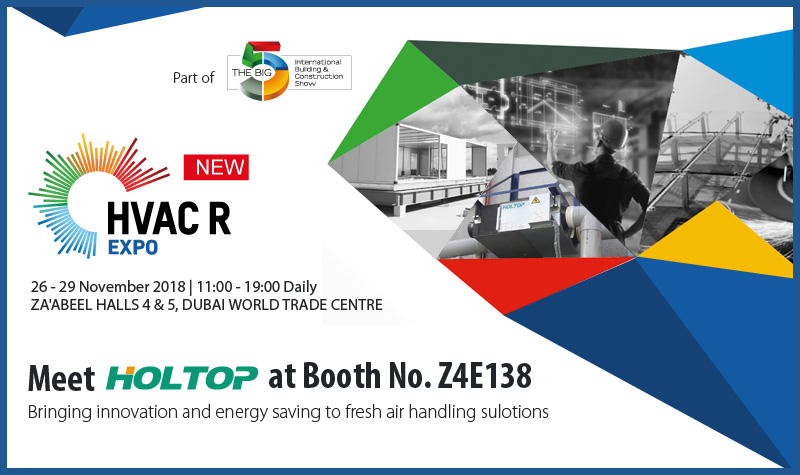 ---
Post lokaci: Nov-18-2018